Top Stories
Yosemite Park fire: Blaze threatening Yosemite's famed grove of giant sequoia trees is still growing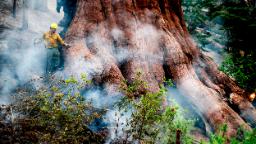 Weather is forecast to get hotter through the week. However, fire scars from past fires about 1 to 3 miles from the Washburn Fire perimeter will help in slowing it, officials said.
Amid the fire's expansion, park officials urged people in Yosemite's Wawona campground and community to evacuate.
The blaze prompted the state's first night-water-drop operation via helicopter Wednesday, when about 12,000 gallons of water were dumped on the flames, Cal Fire Battalion Chief Isaac Sanchez told CNN.
"The helicopter was brought in to assist in the cooling and containment of a firing operation which had taken place earlier in the afternoon," Sanchez said. "While assigned to this operation, the helicopter identified additional areas where the fire had crept over the containment lines and was able to aid in their full extinguishment and containment."
The threat is not limited to California. Robert Garcia, the US Forest Service's fire chief for the Angeles National Forest, said the summer months are off to a "concerning start." Firefighting resources have been mobilizing since March to Arizona and New Mexico, where the Black Fire just became the state's second-largest blaze in history.
"Southern California typically has a fire season of historically late June and then into the fall," Garcia told CNN last month. "But we're seeing activity now year-round."
CNN's Stephanie Elam, Melissa Alonso and Eric Levenson contributed to this report.