Sports
World Baseball Classic: Great Britain beaten by US on debut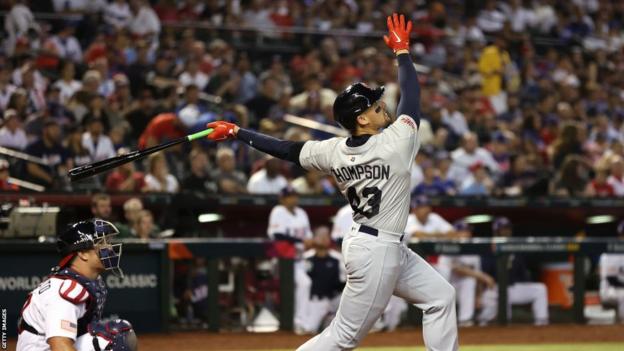 Great Britain's debut at the World Baseball Classic began with a 6-2 defeat by defending champions the USA.
Britain went 1-0 up from Trayce Thompson's home run in the first inning before the powerful hosts took control.
Nolan Arenado's three hits and a three-run home run from Kyle Schwarber helped the US establish a 6-1 lead.
D'Shawn Knowles then scored off Anfernee Seymour's groundout in the seventh to make it 6-2 in the Pool C clash at Chase Field in Phoenix.
Reaching what is essentially the sport's world cup was a remarkable achievement in itself for the British side.
Qualification for the tournament is worth six times the annual income of the GB governing body.
The 30-man roster is a mix of global players with British or Caribbean ancestry and UK-born talent who have emigrated.
Britain next face Canada at 19:00 GMT on Sunday.
Source link