Sports
Women's World Cup 2023: Australia's accidental icon – how Sam Kerr became the face of a nation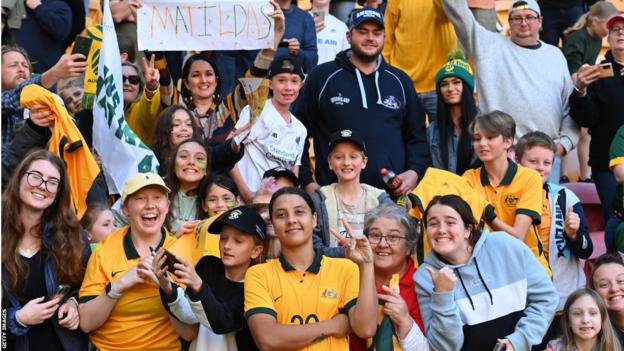 Sign up for notifications to the latest Insight features via the BBC Sport app and find the most recent in the series here.
A 12-year-old Sam Kerr didn't know it at the time, but she was about to make a choice that would change football.
She had been playing Australian rules football. And loving it.
Her brother Daniel, 10 years older, was the star of Perth's West Coast Eagles. But her days with the oval ball were numbered. As the boys she played alongside got bigger, the action got more physical. She would come back from matches with black eyes or a swollen nose.
At 12 years old, the teams went single-sex. She couldn't keep playing with her old friends. It was the end of one journey, but the start of another; one that has made her one of the greatest women's players of all time.
"I wouldn't say she loved soccer at first," her mother Roxanne told BBC World Service's World Football. "Because we as a family are so AFL [Australian rules], it was really upsetting for her not to be able to play that with the boys, so at the beginning she didn't really take her soccer very seriously."
But the rest of the sport soon had to take her seriously.
Aged only 15, Kerr won her first cap for the Australian national team, the Matildas.
Now 29, she will lead her country as captain at a home World Cup, seeking to take them past the quarter-finals for the first time.
If she does, she may just achieve her dream of replicating the feat of her idol, Sydney 2000 gold medallist Cathy Freeman, and "stop the nation".
This is the story of how Kerr developed into one of the world's best strikers and an Australian icon.

For most players, their first international cap is a treasured moment – an explosive culmination of hard work and pride.
But Kerr's turned out to be an awkward whimper, rather than a bang.
When Scotsman Tom Sermanni sent Kerr out in the 76th minute of a friendly against Italy in Canberra in 2009, none of her friends and family were there to watch her.
It wasn't though any indifference. It was the lack of an invitation.
"I never realised how big the moment was and I always say if I could redo one part of my career, it would be my first cap," Kerr admitted in 2021.
"She didn't tell us when she was going to make her Australia debut, she just told us she was going to camp, so we didn't go," Kerr's mother Roxanne said.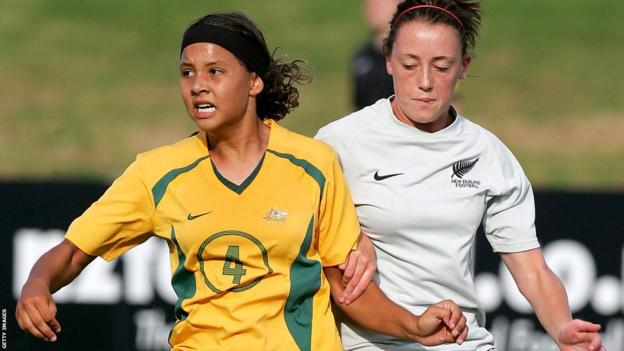 They would have been there. Kerr's parents spent her childhood ferrying her across Perth and beyond as her career progressed. The Kerrs were a family united in their passion for sport and competition.
The heritage goes way back. One of Kerr's grandfathers was a featherweight boxer, another was a state-level Australian rules player. A grandmother played basketball. A great uncle won horse racing's Melbourne Cup in 1966. And her father Roger and eldest brother Daniel were dedicated to Aussie rules.
Their garden was a parched track for backyard cricket in the summer. If they weren't playing some kind of sport, they were spending hours glued to the TV watching it. Roger fondly remembers watching every second of cricket's Boxing Day tests, sheltering inside from Perth's hot dry summers.
"She and Daniel are very close," Roxanne said. "They always talked about sport, any sport. They both love boxing, watching the tennis, the cricket, the racing cars, whatever is on.
"We are still competitive. We are forever playing something – whether is it coits or jenga in the garden – and the whole house is screaming over who is going to win or lose. It is in her blood."
Kerr's first senior international goal arrived around a year after her debut for Australia, deflecting a clearance into the net from close range in an Asian Cup match against South Korea.
That was the first of 63 goals and counting for the Matildas. The Kerr celebration, which made its debut that day, has since become a familiar sight.
"She didn't quite execute what she delivers now," remembered team-mate Kate Gill of Kerr's cartwheel-backflip combo.
"But I just remember the way she landed and the grin on her face as she collapsed to the ground. It was a pretty special moment."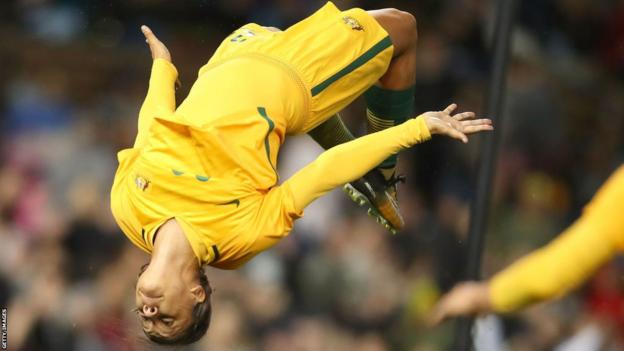 Coach Sermanni had no qualms about bringing Kerr into the senior squad at such a young age.
"She had the raw materials. My first impression was power and energy," he said.
Sermanni said her sense of honesty and fun and "devil-may-care attitude" arrived fully developed.
"I think in 2010, we went to play Germany away," said Sermanni.
"I remember coming in at half-time and Sam just said, deadpan, 'that's the hardest game I've ever played'. So she just had that kind of innocent honesty."
In club football, the goals initially came as more of a trickle than a flood, until a tactical masterstroke.
At the start of her professional career, the obvious place to put Kerr – blisteringly fast, but still a naive teenager – was on the wing. And that is where she was stationed for Perth Glory.
However when Bobby Despotovski was appointed as the W-League side's coach in 2014, he sensed she could do more centrally.
"I thought to myself, she's unused, being so far out of the box, and so far from the goal," he told BBC Sport.
"Why don't we actually put her closer to the goal as an out-and-out striker and see what happens?"
After some injury setbacks, the goals started to flow.
"I said all along that she's going to be one of the best footballers in the world," Despotovski said. "And nobody believed me."
There was a lot more to Kerr's development at Perth Glory – she also had to work on mental toughness.
While Daniel was one of Australia's leading AFL players, he was also frequently involved in off-field controversies, often featuring alcohol and violence.
"At an early age, when her brother was playing AFL very well, he was in the media for good reasons," Despotovski said.
"But later on, in her teen years, it was for bad reasons.
"I think she needed to develop mentally to block that out and continue on her path. It's full testament to her mental state.
"I remember numerous times and she was very, very frustrated.
"We would have long chats about the frustration and how she can channel it and use it as a springboard to be much better."
Kerr worked on properly channelling her mood during games, and instead of making endless runs for passes that didn't come, she focused on fewer, more dangerous darts into the box.
"When we gave her the captaincy, you could see her stepping up to the next level," Despotovski said.
"She would lead the team from the first minute until the end of the game every time.
"She took everyone under her wing and she led by example on and off the park."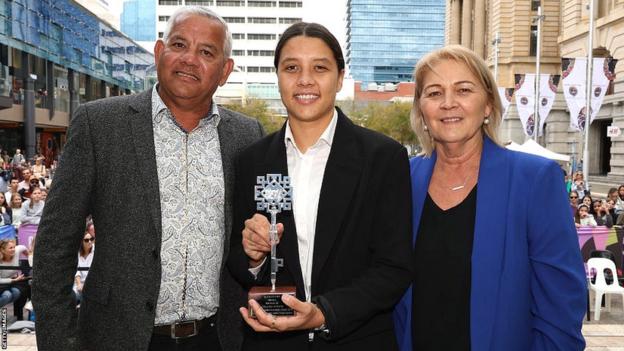 Seeking out more games and a higher standard of competition, Kerr trod a common path for Australian footballers, playing back-to-back seasons by switching from Australia to the United States.
The lack of overlap in the fixture lists made for a gruelling schedule, but scope for rapid improvement.
When Western New York Flash coach Aaran Lines was negotiating with Sam's agent to bring her over to the club in 2013, he expected the 19-year-old to be shy. Instead he found the opposite.
"She had amazing energy, she lights up the locker room," he said.
"I remember her athleticism, her ability to jump, her timing. With her Aussie rules background, she would seem to float in the air.
"The kid could jump like a kangaroo. Her ability to get on crosses and do untrainable stuff, it was just in her personality and understanding of the game."
She played alongside established superstars of the game – such as Abby Wambach and Carli Lloyd – at Western New York Flash and shone.
But in late 2014 she suffered a serious knee injury, requiring surgery.
With the 2015 World Cup approaching, Kerr was in a race against time to prove her fitness.
Four weeks after going under the knife, she went to the Australian Institute of Sport in Canberra to work with strength and conditioning coach Aaron Holt.
He had seven weeks to get her up and running.
"I thought it was going to be pretty tough to get her there. The first two weeks, she was on crutches," Holt explained on BBC World Service's documentary Sam Kerr: The making of a Matilda.
"I had to constantly adjust her training programme, because she just loved the work – you would tell her how many, and she would step up every time."
On the very last day, with no time to spare, Kerr completed rehabilitation and was selected for the World Cup.
"There was so much more work to do after being selected, but that tournament spring-boarded her career," he said.
"If she hadn't made it, who knows where she might be today."
On the back of a successful World Cup campaign in the Matildas reached the last eight, Kerr joined New York-based Sky Blue FC, now known as NY Gotham FC.
She became the NWSL's top scorer at 23 and won the Golden Boot and Most Valuable Player award in her second full season.
At the end of 2019, amid interest from several clubs, Kerr announced she would join Chelsea, becoming one of the best-paid women in the game.
She was the Women's Super League's top scorer in each of her first two full seasons in London. Individual recognition has followed; she has been both club and league player of the year, and was third in the past two Ballon d'Or polls.
Her consistency is matched by a habit of turning up when it matters most.
Several people the BBC spoke to described Kerr as a "big-game player".
She has played in the past three FA Cup finals, scoring five goals, with the Blues winning a hat-trick of trophies.
"Whenever we need her to score a goal she is always there," said Chelsea winger Guro Reiten.
"If Sam's not scoring goals, I'm not looking at her, I'm looking at me – what am I not doing right?
"Sam tells me every day: 'Between my hairline and my eyebrows, that's where I want it!' It's true."
Every time Kerr returns to Australia, she is swarmed by crowd of fans wearing her number 20 shirt.
The Australian government awarded Kerr the Young Australian of the Year award in 2018, and asked her to carry the national flag at King Charles' coronation earlier this year.
Kerr initially intended to turn down the invitation to Westminster Abbey, as it clashed with training at Chelsea.
Coach Emma Hayes found out from someone else, gave Kerr the day off and told her she was "crazy" for almost opting out of the event.
"She was pretty chuffed to be sitting next to Harry and thought King Charles was cool," Roxanne said.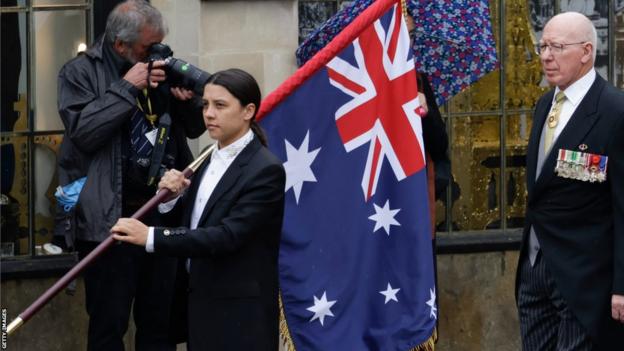 She wasn't just representing Australia, however.
Kerr, whose father Roger was born in Kolkata to an Indian mother and English father, has expressed enthusiasm about going to India and connecting with her roots.
"It was pretty hard as a young fellow with dark skin in Australia, but now it's a completely different world and multiculturalism is everywhere," Kerr's father Roger said.
"Everyone's equal to Sam – doesn't matter what race you are as long as you're a good person."
Kerr was praised for her leadership in February when the Matildas wore rainbow numbers on their jerseys for a Sydney game that coincided with the city hosting World Pride.
"Everyone should feel comfortable in whatever skin they're in, whoever they want to be, whoever they want to love," said Kerr, whose partner Kristie Mewis is part of the United States' World Cup squad.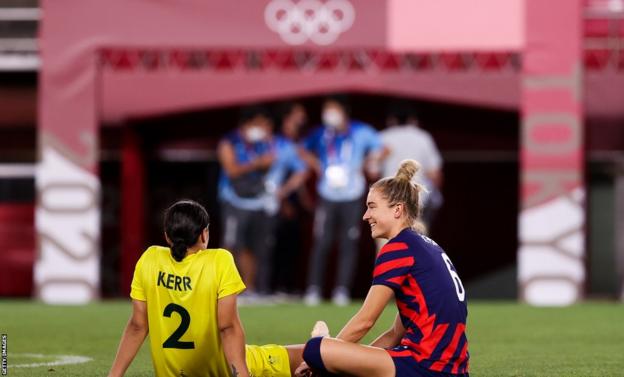 Nicola Williams, who coached Kerr at Perth Glory, said the striker's competitive streak never compromised her personality and humanity.
"She was just humble on the field, " said Williams. "She was nice to be around. But she wanted to win, there was no doubt about that.
"I think probably how her mum was, just allowed her to be passionate about sport and have fun doing it."
Marianna Tabain played football with Kerr in Perth and at a national level from age 12. She is now a teacher and sees the impact her former team-mate is having on Australia's youth.
"There are boys in my class that are searching her up on Google," she told BBC Sport.
"And that was unheard of; you never searched for a female footballer.
"Now a lot of people know who Sam is and they want to be her."
By the time Australia begin their campaign on Thursday against the Republic of Ireland, a lot more people will be aware who Kerr is and what she represents.
"She is so excited about a home World Cup – who would have every thought we would get one here, it is really good," mother Roxanne said.
Wherever her team's World Cup run ends, and whether she manages to emulate Freeman and take gold or not, Kerr has secured her place as as one of Australia's greatest athletes.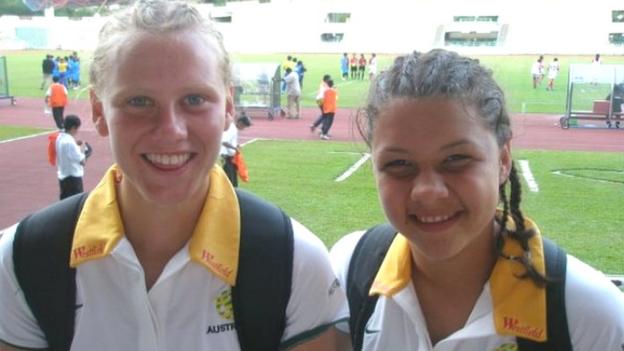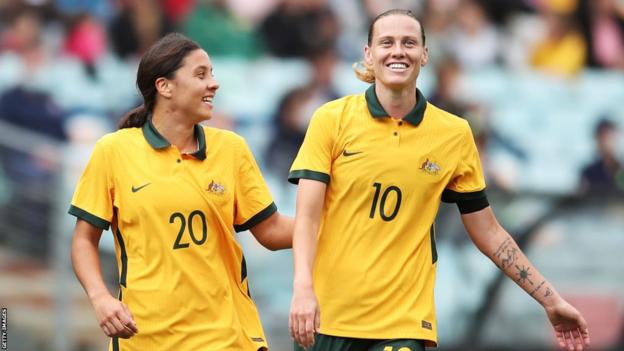 Source link