Top Stories
With month before strike deadline, Teamsters walk away from talks with UPS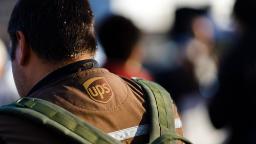 New York
CNN
 — 

The Teamsters union says it has walked away from negotiations with United Parcel Service with just over a month to go before its contract expires.
The union, whose rank-and-file members have already authorized a strike if a new deal with the parcel carrier is not reached by the July 31 contract expiration deadline, is demanding that UPS present it with its "last, best, and final offer" by this Friday.
It would then present the offer to the 340,000 members who work at UPS with the expectations that they would reject the deal, in the hopes that it would force the company to improve the offer before the deadline.
"The largest single-employer strike in American history now appears inevitable," Teamsters President Sean O'Brien said. "Executives at UPS, some of whom get tens of millions of dollars a year, do not care about the hundreds of thousands of American workers who make this company run."
UPS

(UPS) officials have continued to predict that a deal would be reached before the deadline. The strike authorization vote, and the union's demand to put the company's current offer to membership does not mean a deal can't be reached before the August 1 deadline. In fact, most union labor negotiations include a strike authorization vote by rank and file, and most negotiations conclude with an agreement rather than a strike.
"Last week, we provided our initial economic proposal," said the company. "This week we followed with a significantly amended proposal to address key demands from the Teamsters. Reaching consensus requires time and serious, detailed discussion, but it also requires give-and-take from both sides. We're working around the clock to reach an agreement that strengthens our industry-leading pay and benefits ahead of the current contract's expiration on August 1. We remain at the table ready to negotiate."
Unions putting a company's offer up for a vote of its membership in an effort to show it would not be ratified is not an uncommon negotiating tactic. Even if they vote no, it does not mean a strike is inevitable, especially this far from a strike deadline. A coalition of unions representing 32,000 workers at Disney World did just that in February, and 96% of union members who participated in the vote voted no. In late March the unions and Disney reached a deal without a strike that got the members wage hikes close to the unions' initial demands, and membership ratified that deal.
Some customers could soon start to move their business to competitors, however, such as nonunion FedEx

(FDX), or the US Postal Service. UPS CEO Carol Tome has insisted there can be a deal reached that is a win for the union members, the company and its customers.
"While we expect to hear a great deal of noise during the negotiation, I remain confident that a win-win-win contract is very achievable, and that UPS and the Teamsters will reach agreement by the end of July," she told investors in April.
The union's own statement said the two sides have reached agreement on 55 non-economic issues. It previously disclosed an agreement that promises to include air conditioning in future delivery van purchases and the retrofitting of existing vans with some features to reduce heat problems in the cargo area, a key demand of the union.
The Teamsters haven't publicly disclosed the wage increase union negotiators are seeking. The union points to record profits that UPS recorded in recent years. These have nearly doubled during the five-year life of the current contract, from an adjusted net income of $6.3 billion in 2018 to $11.3 billion on that basis last year. The surge in online purchases that started during the height of the pandemic drove record package delivery volumes for UPS and other delivery services.
But UPS profits, revenue and volumes fell in the first quarter compared to a year earlier as the company warned it is seeing signs of a slowdown in shipments. The Teamsters say that the company continues to seek only a small increase in overall labor costs during economic negotiations, which the union termed "insulting."
"During the past week, UPS returned an appalling counterproposal to the union's financial package, offering miniscule raises and wage cuts to traditional cost-of-living adjustments," said the Teamsters' statement.
There has been bad blood between Teamsters membership and UPS dating back to the 2018 contract that a majority rejected in a ratification vote at that time, only to have it imposed on them anyway. That contract became a major issue in the union's presidential election last year, which O'Brien won by campaigning against the current contract as unfair to members.
Source link