Top Stories
Why President Volodymyr Zelensky's surprise US visit is so significant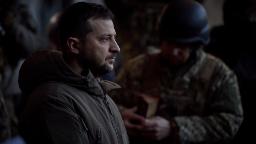 CNN
 — 

President Volodymyr Zelensky's White House visit Wednesday will symbolically bolster America's role as the arsenal of democracy in the bitter war for Ukraine's survival and send a stunning public rebuke to Russian President Vladimir Putin.
That his first trip outside Ukraine since the Russian invasion in February is to the United States will also highlight President Joe Biden's historic role in reviving the Western alliance that kept the Soviet Union at bay and is now countering new expansionism by Moscow in an effective proxy war between nuclear superpowers.
Zelensky's arrival will draw poignant echoes of British Prime Minister Winston Churchill's arrival in Washington, 81 years ago on Thursday, days after the Japanese attack on Pearl Harbor. That Christmas visit cemented the alliance that would win World War II and built the post-war democratic world.
Zelensky compared his nation's resistance against Russia with Britain's lonely defiance of the Nazis in the days before the US entered World War II during a video address to the UK Parliament earlier this year, and his arrival in the US capital will sharpen the parallels to the earlier meeting of Churchill and President Franklin Roosevelt.
His visit is unfolding amid extraordinary security. House Speaker Nancy Pelosi wouldn't even confirm the early reports that she'd welcome Zelensky to the US Capitol in an unexpected coda to her speakership, saying on Tuesday evening, "We don't know yet. We just don't know."
A White House reception for Zelensky, who sources said was traveling to the US on Tuesday night, will above all be an unmistakable sign of US and Western support for Ukraine's battle against Putin, who says the country has no right to exist. The war exemplifies what Biden has framed as a global struggle between democracy and totalitarianism, which he has put at the center of his foreign policy.
Democratic Rep. Ruben Gallego of Arizona, who visited Ukraine earlier this month, said on CNN's "AC360" that Zelensky was coming to Washington on a specific mission. "What he is trying to do is draw a direct correlation between our support and the survival and support and future victory of Ukraine," Gallego, a member of the Armed Services Committee, said.
Biden will announce an additional $1.8 billion in security assistance to Ukraine during the visit, with the coveted Patriot missile systems as part of that package, a US official told CNN's Phil Mattingly. Washington also plans to send Ukraine precision bomb kits to convert less sophisticated munitions into "smart bombs" that could help it target Russian defensive lines, sources told CNN's Pentagon team. Zelensky's visit also comes as Congress is poised to sign off on another $45 billion in aid for Ukraine and NATO allies, deepening the commitment that has helped Kyiv's forces inflict an unexpectedly bloody price on Putin's forces.
The decision on Patriots, which would satisfy a long-standing Ukrainian request, reflects a US process of matching its aid to the shifting strategy of Russia's assault. The system would help Kyiv better counter Russia's brutal missile attacks on cities and electricity installations, which it has mounted in an effective attempt to weaponize bitter winter weather to break the will of Ukrainian civilians.
The meeting between Biden and Zelensky, who have spoken multiple times by phone and video link-ups but have not met in person since the invasion, comes at a vital moment in the war. Biden has for months cautiously calibrated US shipments of arms and weapons systems in a way designed to save Ukraine but to avoid escalating the conflict into a disastrous direct clash between NATO and Russia. He, for instance, rejected Ukrainian calls for the West to enforce a no-fly zone over the country. The Patriots – a long range-aerial defense system – would represent the deepest US dive into the conflict so far.
Former NATO Supreme Allied Commander, Europe, Wesley Clark said that Zelensky's trip reflects a critical moment when the destiny of a war that Ukraine cannot win without upgraded US support could be decided before Russia can regroup.
"This is a window of opportunity for Ukraine and a window of danger as well," Clark told CNN's John Berman on "AC360" on Tuesday.
"Russia's weak, (but) Russia will be stronger. This is a period where the United States needs to pour in the support. … This is the window, President Zelensky knows it – if he is going to defeat, with US support, the Russian aggression in Ukraine," Clark said.
"Wait until the summer and it will be an entirely different battlefield."
But the highly public nature of Zelensky's visit, and the expected announcement regarding Patriots, also risks further provoking Putin when he is signaling that, as disastrous as the war has been for Russia's troops, he's in for the long haul, betting the West's commitment will eventually ebb.
His visit to Congress will also play into an increasingly important debate on Capitol Hill over Ukraine aid with Republicans set to take over the House majority in the new year. Some pro-Donald Trump members, who will have significant leverage in the thin GOP majority, have warned that billions of dollars in US cash that have been sent to Ukraine should instead be shoring up the US southern border with a surge of new migrants expected within days.
Conscious of pressure from his right flank, the possible next speaker, GOP Rep. Kevin McCarthy of California, has warned that Ukraine should not expect a "blank check" from the new House. Even though Ukraine still has strong Republican support in the Senate, it's this kind of shifting political dynamic that appears to inform Kremlin perceptions about how long US resolve will last in a conflict on which Putin's political survival may well depend.
Zelensky's pre-Christmas trip promises to be the greatest public relations coup yet for the media savvy comic actor-turned-president, who has cleverly tapped into the history and patriotic mythology of Western nations in a series of video addresses to lawmakers from war-torn Kyiv. Often, while grateful for outside support, he has seemed to be trying to shame the West to do more and to create a deeper understanding among voters for the trials facing Ukraine.
In March, for instance, Zelensky evoked Mount Rushmore and Martin Luther King Jr.'s "I have a Dream Speech" during a virtual address to Congress. He also referred to two days of infamy in modern history when Americans directly experienced the fear of aerial bombardment.
"Remember Pearl Harbor, terrible morning of December 7, 1941, when your sky was black from the planes attacking you. Just remember it," Zelensky said. "Remember September 11, a terrible day in 2001 when evil tried to turn your cities, independent territories, into battlefields. When innocent people were attacked, attacked from air, just like nobody else expected it, you could not stop it. Our country experiences the same every day."
When Zelensky arrives in Washington, he might well experience the same revelation that Churchill did over the capital's blazing lights at Christmas after months in the dark of air raid blackouts back home.
The wartime British leader sailed to the United States aboard HMS Duke of York, dodging U-boats in the wintery Atlantic and took a plane from the coast of Virginia to Washington, where he was met on December 22, 1941, by President Franklin Roosevelt before their joint press conference the next day.
Over days of brainstorming and meetings – fueled by Churchill's regime of sherry with breakfast, Scotch and sodas for lunch, champagne in the evening and a tipple of 90-year-old brandy before bed – the two leaders plotted the defeat of Nazi Germany and Imperial Japan and laid the foundation of the Western alliance that Biden has reinvigorated in his support for Ukraine.
Churchill, who had pined for US involvement in World War II for months and knew it was the key to defeating Adolf Hitler, said during his visit, "I spend this anniversary and festival far from my country, far from my family, and yet I cannot truthfully say that I feel far from home."
Zelensky is sure to get that kind of hero's welcome and will hope that extra US support will mean that Washington has truly "drawn the sword for freedom and cast away the scabbard," as Churchill said of the Roosevelt administration in his address to Congress on December 26, 1941.
The Ukrainian leader is likely to appreciate the historical parallels. He paraphrased one of Churchill's most famous wartime speeches in an emotional address to British members of parliament in March.
"We will not surrender, we will not lose, we will go to the end," he said.
Source link