Sports
West Ham: Michail Antonio says change of philosophy is not working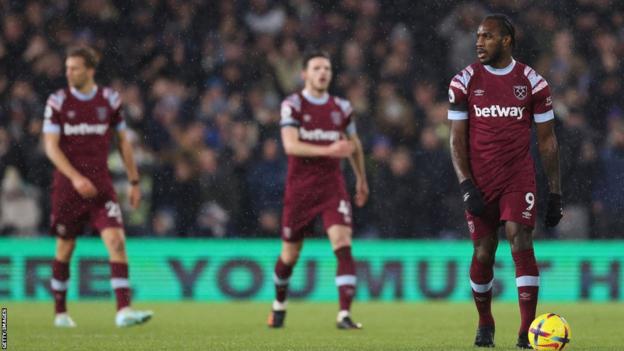 Striker Michail Antonio says West Ham have tried to change their "philosophy" to compete for a Champions League place but the "transition into a big team" is not working.
David Moyes' side are 18th in the Premier League and have not won in the top flight since 24 October.
They spent £160m in the summer after qualifying for Europe in back-to-back campaigns.
Antonio says their recent struggles are a consequence of the past two seasons.
"I feel what we've done over the last two years we've thought, 'let's not get complacent, let's get our 40 points'. This year, at the beginning of the season, we were like, 'we were so close to the Champions League last year. We want the Champions League'," said the 32-year-old on BBC Sport's The Footballer's Football Podcast alongside Newcastle's Callum Wilson.
"We were jumping steps. We tried to change our philosophy. You can see, this season, we haven't played the same way we've been playing the last two years. We've changed it slightly. We've brought in players to play through the thirds."
West Ham finished sixth in 2020-21 – two points off the top four – to qualify for the Europa League, and ended last season seventh to make the Europa Conference League.
They reached the Europa League semi-finals last season, losing to eventual winners Eintracht Frankfurt.
Antonio added: "Over the last couple of years we've not really played much possession football. We kind of sat off teams and just countered. Because we've been up there in the top six, everyone up there plays possession football. They keep the ball, try to break teams down and score more free-flowing goals.
"Teams are countering us the way we would have countered them. It's a transition. We're trying to transition to become a bigger team and, I've got to be honest, it ain't working."




Source link