Sports
West Ham 4-1 Gent (Agg 5-2): David Moyes hails Declan Rice after 'Roy of the Rovers' goal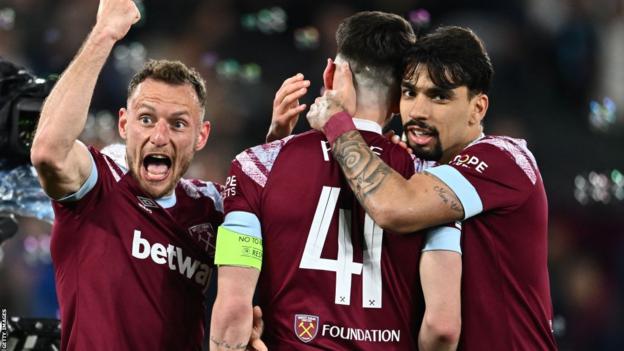 It was a goal that will live long in the memory of everyone at London Stadium.
Declan Rice won the ball in the West Ham half before exchanging passes with Lucas Paqueta, running half the length of the pitch and sending a low shot into the bottom corner past Gent goalkeeper Davy Roef.
The midfielder's moment of brilliance put the Hammers 3-1 up on the night in their Europa Conference League quarter-final to ease all nerves after a disastrous start saw the visitors take a shock lead.
West Ham ultimately cruised into the semi-final 5-2 on aggregate, setting up a last-four tie against Dutch side AZ Alkmaar and leaving the home fans celebrating reaching a European semi-final for the fifth time in their history.
Rice's contribution is bound to trigger more speculation about the future of the 24-year-old, who, despite being under contract for another season, has been heavily linked with Arsenal.
"If anybody didn't think he could do that, they are completely naïve and don't watch us close enough," Moyes said.
"He is some player. That is why we value him so highly. It was a Roy of the Rovers-type goal.
"He has so many parts to his game, he doesn't always show them. He has a good personality but he could show it even more.
"His experiences with England have been huge. I can see him when he comes back, he has grown quicker and bigger, getting a chance to work alongside the quality of players they have got, and a great coaching staff, will do Declan the world of good."
It was only Rice's third goal of the season and his first in Europe since the Europa League quarter-final second-leg victory over Lyon 12 months ago.
"When I pick the ball up in those positions and have space to drive into, I feel good," Rice told BT Sport. "That's when I feel I'm at my best.
"It doesn't happen all the time, so it definitely goes down as one of my best goals for West Ham. I didn't even know how to celebrate."
The meeting with AZ gives West Ham a chance to atone for their Europa League semi-final defeat by Eintracht Frankfurt last season.
And, while there is clearly work ahead for Moyes and his players to secure Premier League safety, the Scot said he would allow them to "enjoy it" for an hour.
He had also calmed down after a bizarre series of events around West Ham's second-half penalty, which ultimately proved decisive.
On the touchline, Moyes expected Said Benrahma to take the 55th-minute spot-kick.
Instead, Paqueta seized the initiative from the Algerian as he tried to atone for his error in gifting Gent their opener.
The Brazilian hardly inspired confidence with a curved run-up, which included a stutter.
But to Moyes' relief he found the roof of the net to put the Hammers ahead on the night – oblivious to his manager putting his head in his hands at one stage.
"I thought Said would take it," said the Hammers boss.
"There is a trend at the moment for the person who is not taking it to walk away with the ball, so I had no worry on.
"I have seen Lucas taking penalties in training. He has a style which is interesting, or nerve-wracking if you are a manager. It was vital we scored."




Source link