Top Stories
W. Kamau Bell found inspiration at home for '1000% Me: Growing Up Mixed'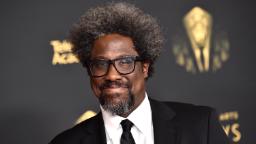 CNN
 — 

W. Kamau Bell isn't the only star in his home.
The comedian and television host credits his three daughters, Sami, Juno and Asha, with inspiring his latest project, "1000% Me: Growing Up Mixed."
Sami and Juno both appear in the HBO documentary about the experiences of multiracial children and their families.
Bell told CNN he thought about what life would be like for his children even before they were born.
"I'm Black, my wife's white, and before even Sami, our oldest daughter, was born, we sort of knew that she was going to have an experience that we wouldn't necessarily be able to relate to a hundred percent, because she was going to be mixed," he said. "Luckily, we live in the Bay Area, so we had mixed folks in our lives."
It was definitely a pivot for Bell and his wife, Melissa.
While he is well known for his Emmy award-winning CNN series, "United Shades of America," Bell's family has been less visible.
"We've always sort of tried to keep them out of the spotlight and they understood that," Bell told CNN. "But once the opportunity came to make a documentary about mixed-race kids, we knew our kids had something to say."
Bell talks to a few of his eldest daughter's friends and their parents in the documentary, as well as some adults who are multiracial.
There are plenty of moments of introspection, including for Bell, who recounted asking Sami about what she sees when she looks in the mirror.
"I was asking her a question that was literally about skin tone in my mind and she said, 'I don't think mirrors tell you everything. I don't think mirrors show everything' and she's talking about who she is inside," he recalled. " And it's that moment of like, she went way deeper than I was expecting. I can't take all the credit, but it felt like a moment of thank God this kid is deeper and more thoughtful than I even realized."
Bell hopes more conversations will be sparked by "1000% Me: Growing Up Mixed."
"The kids are inspiring. I don't often make things that end on a hopeful message," he said. "I was happy to make something that felt lighter and feels more like 'Everybody sit down [and watch]'.There is definitely some moments, some difficulty and the word trauma is used multiple times … but I definitely feel like these kids can provide hope."
The film is currently streaming on HBO Max, which like CNN is part of Warner Bros. Discovery.
Source link