Sports
Vinicius Jr: La Liga to request 'more sanctioning powers' over incidents of racism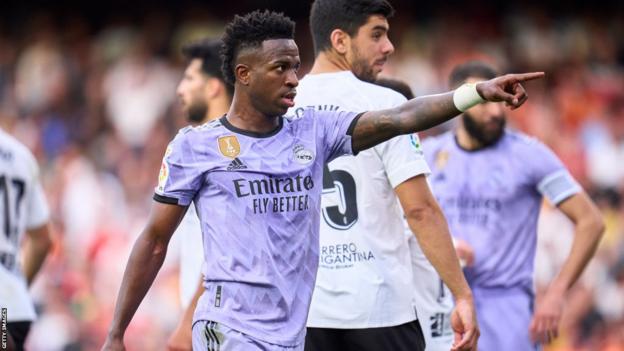 La Liga will request "more sanctioning powers" so it can punish incidents of racism in Spanish football.
Real Madrid forward Vinicius Jr has been the target of racist abuse multiple times this season.
The Spanish league's handling of the latest incident at Valencia on Sunday has received widespread condemnation.
Under Spanish law, La Liga can currently only identify and report cases but not impose sanctions, making it feel "powerless".
It added it feels "tremendous frustration" at the lack of sanctions and convictions by the authorities to which it reports.
La Liga will make a formal request to the Spanish government that two laws are amended to give it authority to impose sanctions such as the total or partial closure of stadiums, bans for supporters and financial penalties.
Currently, it submits a weekly letter to the RFEF's – Spanish football's federation – competition committee and the State Commission against Violence, Racism, Xenophobia and Intolerance in Sport detailing any chants at matches that incite violence or contain insulting content.
For insults that could be classified as a hate crime, La Liga also reports them to the Hate Prosecutor's Office.
La Liga said it had "long observed with impotence" these reports being "dismissed without even reaching the courts".
In a lengthy statement, it detailed some of the "surprising reasons" for which previous reports have been dismissed, such as a defendant not appearing "to be a person who intends to incite racism" from examination of their social media accounts.
It also included a summary of cases reported and their judicial status. Of these, nine are related to incidences involving Brazil international Vinicius Jr.
On Sunday, Real's match at Valencia was paused in the second half after an incensed Vinicius reported opposition fans to the referee.
After the match, Vinicius and La Liga president Javier Tebas were involved in a row on Twitter, after the Brazilian said La Liga "belongs to racists" and "in Brazil, Spain is known as a country of racists".
Tebas responded by saying Vinicius twice did not turn up for a meeting to discuss what it "can do in cases of racism", adding: "Before you criticise and slander La Liga, you need to inform yourself properly."
Police in Spain said on Tuesday three people had been arrested for "racist behaviour" during Sunday's match.
Police had earlier said they had detained four people suspected of hanging an effigy of Vinicius from a bridge in Madrid earlier this year.
On Monday the lights on the iconic Christ the Redeemer statue in Rio de Janeiro were switched off for an hour in solidarity with Vinicius.
'I don't think Vinicius will leave' – Ancelotti
Meanwhile, Real Madrid manager Carlo Ancelotti believes Vinicius will stay at Real Madrid and in Spain despite his racist abuse he has faced.
The 63-year-old Italian said his player was "very sad" but overwhelmed by the support he has received.
"I don't think [he will leave Spain], because he loves football and he loves Real Madrid," said Ancelotti.
"His love for the club is very big and he wants to make his career here."
Ancelotti condemned the lack of action that has been taken against racist abuse in football, and said he would consider taking his players off the pitch if it was to happen again.
"I want actions and nothing has been done yet," he said.
Source link