Sports
Ulster Rugby: Irish province's problems are 'redeemable', says ex-Ireland coach O'Sullivan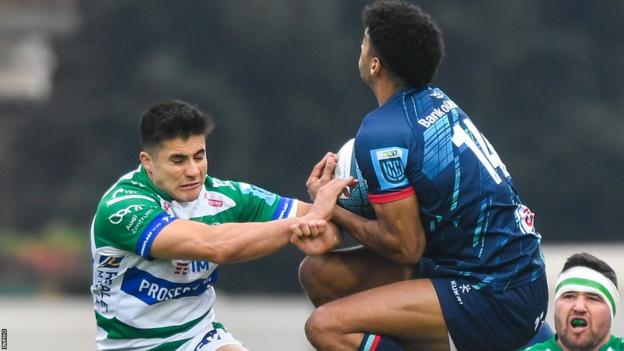 Venue:
Stade Marcel-Deflandre
Date:
Saturday, 14 January
Kick-off:
17:30 GMT
Coverage:
Live coverage on BBC Sounds and BBC Radio Ulster; Match report on BBC Sport website
Ulster's current slump in form is "redeemable" and their performance in the URC is set to define their season, says ex-Ireland coach Eddie O'Sullivan.
The Irish province go into Saturday's Champions Cup game at La Rochelle on the back of five defeats from six games, the most recent coming in last weekend's 31-29 loss to Benetton.
"It's getting to crisis mode but it can be fixed," said O'Sullivan.
"I think the URC defines their season this year, that should be their focus."
"They could still qualify in Europe [for the last-16 knockout phase] if they can maybe pick up a bonus point next week away in La Rochelle and then beat Sale at home the following week.
"But they're right in there in the URC, they're fourth in the table, they have 38 points, they've won seven and lost four, they're in a great position," O'Sullivan told BBC Radio Ulster's Sportsound Extra Time programme.
Ulster went down heavily, 39-0, away to Sale in their Champions Cup opener in December, then picked up two bonus points in a 36-29 reverse against La Rochelle.
After making a promising start to their URC campaign, Dan McFarland's men have suffered defeats at the hands of Leinster, Munster and Benetton, with their solitary victory in their last four outings in that competition coming in the form of a narrow 22-20 victory over Connacht.
'It puts pressure on everybody'
"If they could only get back to where they were in the URC, winning games they were supposed to win, they might get their confidence back but the problem is the next two weeks – they can't just not show up, they've still got to go out and go to battle, and try and get some positives out of it, so there's no taking your foot off the pedal.
"I think they've just got to get on with it and stay in the moment in every game and when they get good situations to try and make the best of them and hopefully they can work their way out of it.
"It does put a pressure on everybody but I think there's no way out of it except to go back and just get down to brass tacks and try and fix every game at a time and steady the ship.
"If it drags on, the worry I would have is that they're down to fourth now and their next games are Stormers, Glasgow and Cardiff, all tricky fixtures.
"Glasgow and Cardiff are away and if they were to go south, they could slide down to fifth or sixth in the table and then you've got a real crisis on your hands because the URC becomes very tricky territory.
"But I think they've just got to pull themselves together and drive on here and hope that the next two weeks they put some good solid performances together.
"There's no magic bullet here, there's no magic formula except getting guys' heads in the right place."
"It's definitely between their ears because this is a good Ulster team, there were 13 Irish internationals on the weekend and they still made a lot of mistakes."
'This is a talented Ulster team'
The alarming dip in Ulster's form has seen the spotlight inevitably fall on McFarland but O'Sullivan believes it is much too early for the former Scotland assistant's position to come under serious scrutiny.
"I do think they have progressed under Dan and they had become much more consistent. This team is a talented team.
"The unspoken conversation a lot of the time is that Ulster have in previous seasons put themselves in very strong positions at certain times of the year and then fallen away.
"That's the big concern now, that Ulster were cruising along, they were second in the URC only to Leinster but it's really since Europe, that defeat in Sale, that's really rattled everybody's cage and they haven't been able to shake that off.
"The key for them is to put some results together, the key to getting some results together is to create consistency when they have the ball and not make mistakes when they don't have it.
"I think it's something that they are going to have to work on as a group but I would say, the sooner they get this sorted the better because the longer it goes on the harder it is to fix.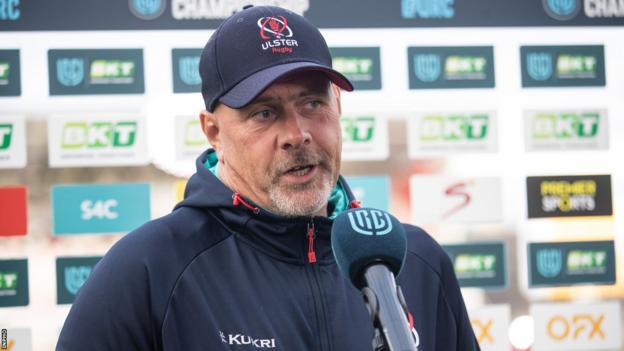 "I don't think we can pretend that there's no issue here. There is an issue but I don't think that its existential, I think it can be fixed.
"I think it's way too early for that conversation [about McFarland's future as coach].
"If Dan can turn this around then there's no reason for him to go anywhere but it does need to get fixed.
"To me, sometimes when you're talking about a coach reaching the end of the road with a group of players, it becomes a very gradual process where the last year or six months you can see the energy of the players edging away and they're not really as connected with the coach as they were and things aren't firing as well as they used to, you see the edges are starting to get a bit frayed.
"That's not the case for Ulster, Ulster have been motoring along quite nicely up until a couple of months ago – they put Zebre away comfortably 36-15 in the URC game before they went into Europe.
"At the start of the year and the way Ulster were playing, we were talking that this Ulster team could win silverware this year and there was no reason to doubt that up until six or seven weeks ago and suddenly all that's up in the air now but look, it's still redeemable."
Source link