Top Stories
UFC 273: Deiveson Figueiredo and Brandon Moreno set for historic fourth title fight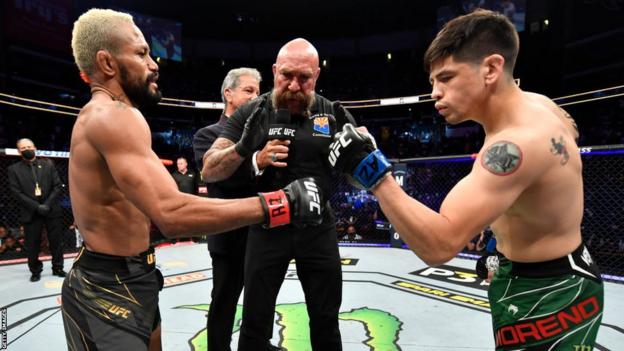 Brandon Moreno had to deal with some startling news in December, just a month out from the biggest fight of his career.
While training in Kansas City, Moreno, 29, found out his head coach James Krause had been suspended by the UFC amid an alleged betting scandal, with all fighters under his tutelage banned from working with him.
The announcement left Mexico's Moreno looking for a new head coach just one month before a historic fourth fight against flyweight champion Deiveson Figueiredo.
Having beaten Kai Kara-France for the interim title in July – a victory masterminded by Krause – Moreno is set to face Brazil's Figueiredo for the undisputed title in the co-main event at UFC 273, in Rio de Janeiro on Saturday.
Never before have two fighters faced each other four times in the UFC.
"It was a hard situation for me of course, because it wasn't part of my plan," Moreno told BBC Sport.
"I had to make a lot of changes in a really short period, so I think that was the hardest part.
"[Krause] showed me a lot and opened the doors of his home and gym to me, so I feel very grateful. Hopefully everything can be clear in the future."
Suspicions were first raised about Krause when betting irregularities arose regarding one of his fighters, Darrick Minner, at a UFC event in November.
Following investigations by the Nevada Athletic Commission, both Minner and Krause were suspended with the UFC banning all its fighters from betting on bouts.
Another of Krause's fighters, Jeff Molina, was banned earlier this week for his alleged involvement as investigations into UFC betting activity continue.
Moreno has teamed up with a new head coach, Sayif Saud, in the hope of finishing his preparations for the fight with Figueiredo.
"I tried to turn the page as soon as possible, and I did it [when Saud reached out]," said Moreno.
"The first week was hard because we hadn't worked together before, but it was just one week, then it was easy to work together.
"We connect, and he was open to working with my other coaches. I'm so proud at the end of the training camp because my performance was really good."
'Deiveson is the antagonist to my history'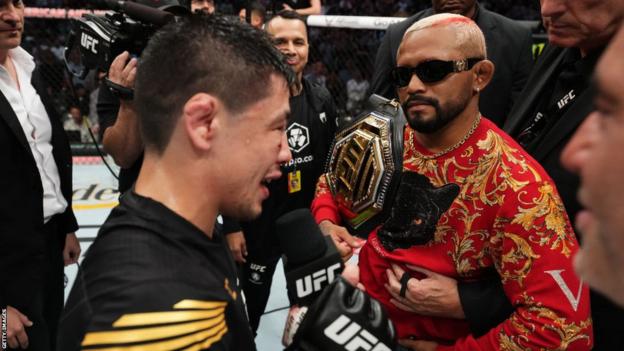 The rivalry between Moreno and Figueiredo, 35, started in 2020, when the pair fought out a draw with Figueiredo retaining his title.
Moreno won the rematch the following year, becoming the first Mexican UFC champion in history, before Figueiredo reclaimed the belt in 2022.
Throughout the pair's rivalry, Moreno has mostly been cheered by fans with the more outspoken Figueiredo being portrayed as the villain.
Moreno says this is key to their rivalry blossoming into one of the most competitive in UFC history.
"First of all we've had three amazing fights and everything starts from that," said Moreno.
"People can expect fireworks inside the octagon. That is part of the magic between Deiveson and I – we don't like each other but at the same time we do amazing things."
"After that I think Deiveson came to this as an antagonist of my own history. People know me – I'm not a guy who tries to trash talk anybody – but Deiveson is the opposite so I think that compliments this history very well."
'I can win the hearts of the Brazilian people'
The event in Rio de Janeiro is the UFC's first show in Brazil in almost three years.
The country has a rich history in MMA, producing all-time greats such as Anderson Silva, Amanda Nunes, Jose Aldo and more.
Despite Figueiredo fighting in front of his home fans, Moreno isn't sure they will back him as voraciously as they have previous Brazilian champions.
"He's an amazing athlete, he's very powerful and has really good skills, but as a human being the guy is not the best to be honest," said Moreno.
"The people know what I'm talking about. I don't know if he has a really good relationship with the Brazilian people. Maybe when it is time they will be a little bit aggressive to me, but for sure I think I can win their hearts."
In the main event, fellow Brazilian Glover Teixeira will look to reclaim the vacated light-heavyweight title he lost to Jiri Prochazka in June, when he faces America's Jamahal Hill.
Prochazka gave up the belt in December because of injury, with a fight between Jan Blachowicz and Magomed Ankalaev for the title ending in a draw, leaving the division without a champion.
Elsewhere in the light-heavyweight division, Scotland's Paul Craig takes on Brazil's Johnny Walker.