Top Stories
Trump's biggest obstacle to returning to the national stage isn't political, it's legal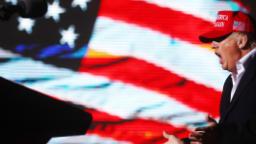 1) In a court filing, New York Attorney General Letitia James said that her investigation into the Trump Organization has turned up a number of
"misleading statements and omissions"
in tax disclosures and financial statements used to secure loans. As a result of those findings, James said she needs the former president, as well as Ivanka Trump and Donald Trump Jr., to testify about what they knew and when they knew it.
"Mr. Trump's actual knowledge of — and intention to make — the numerous misstatements and omissions made by him or on his behalf are essential components to resolving [the Office of the Attorney General's] investigation in an appropriate and just manner," the filing states. "Likewise, Donald Trump, Jr. and Ivanka Trump worked as agents of Mr. Trump, acted on their own behalves, and supervised others in connection with the transactions at issue here; their testimony is necessary for appropriate resolution of OAG's investigation as well."
2) The Supreme Court
allowed more than 700 documents
from the presidential record to be sent to the US House committee investigating the attack on the US Capitol on January 6, 2021. As CNN noted: "The documents include activity logs, schedules, speech notes and three pages of handwritten notes from then-White House chief of staff Mark Meadows — paperwork that could reveal goings-on inside the West Wing as Trump supporters gathered in Washington and then overran the Capitol, disrupting the certification of the 2020 vote." Trump's legal team opposed the release, citing executive privilege.
Even one of those developments should be worrisome for Trump. Both happening on the same day? You can bet it wasn't a quiet night down at Mar-a-Lago. (Amazingly, the former president has yet to comment on either of the developments on Wednesday.)
What Wednesday makes clear is that the biggest potential impediment to Trump's return to the national political stage isn't political — it's legal.
In addition to James' investigation into the possible over- (and under-) valuing of Trump properties and the January 6 committee, Trump is also dealing with the following:
That's a whole lot of legal exposure for the former president. And while it's not yet clear whether Trump (or his close family members) will be found culpable in any of these suits, it's also not a slam dunk that they won't be.
Trump has long adopted a legal strategy of dragging out any and all proceedings for as long as he can — in hopes that a) people lose interest and b) the other side folds (usually from a lack of money to continue the legal wrangling).
That strategy seems unlikely to work this time around, with the US House, the New York attorney general and the Manhattan district attorney on the other side of the table from Trump. And, the two blows struck against Trump on Wednesday suggest that things are likely to get worse for him and his inner circle long before they get better.
UPDATE: This story has been updated with additional developments.