Top Stories
Traveling to Spain during Covid-19: What you need to know before you go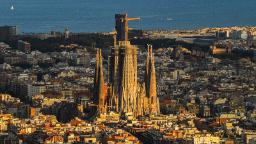 Editor's Note — Coronavirus cases are in flux across the globe. Health officials caution that staying home is the best way to stem transmission until you're fully vaccinated. Below is information on what to know if you still plan to travel, last updated on October 7.
(CNN) —
If you're planning to travel to Spain, here's what you'll need to know and expect if you want to visit during the Covid-19 pandemic.
The basics
Spain has suffered greatly from Covid-19, with a high number of cases and deaths. The Omicron coronavirus variant caused a peak in Spain earlier in 2022, but cases have since dropped.
Spain is open for travel with some restrictions in place, see below.
What's on offer
One of Europe's biggest hitters for good reason, Spain pulls tourists in by the millions thanks to its warm weather, laidback vibe and excellent food and wine.
Plus, of course, there are some of Europe's best beach resorts, mountains, and cultural cities such as Madrid, Seville and Barcelona.
Who can go
Travelers arriving from elsewhere in the world may also visit Spain for a vacation, but must provide either a certificate proving full vaccination, a negative test (PCR or rapid antigen) or a certificate of recovery. Travelers can enter using the EU Digital Covid Certificate or its equivalents — this link provides a list of equivalent Covid certificates.
The above rules apply to anyone over 12.
What are the restrictions?
If a traveler's final dose of their first course of vaccination was over 270 days ago, Spain requires them to have also received a booster dose.
This rule only applies to travelers from outside the EU/Schengen zone who are over 18.
What's the Covid situation?
Spain has seen more than 13.4 million Covid infections and over 114,200 deaths as of October 7, 2022.
As of October 7, over 88.3% of the population has received at least one dose of a Covid-19 vaccine.
What can visitors expect?
Face masks are no longer mandatory in most public spaces, but remain compulsory on all public transport. See details here.
Useful links
Our latest coverage
You can also find out what it's like hiking Spain's "Coast of Death" here.
Joe Minihane, Julia Buckley and Francesca Street contributed to this report
Source link