Top Stories
The US is closely watching this Covid surge for clues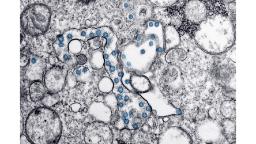 South African scientists have found that BA.4 and BA.5 can evade antibodies from previous infection well enough to spark a new wave, but are less likely to do so in people vaccinated against Covid-19. Almost all South Africans are either vaccinated or have had a previous infection.
Tulio de Oliveira, director of South Africa's Centre for Epidemic Response and Innovation, said that the research shows how the virus is changing as global immunity grows.
"We are all tired of this virus, but he may not be tired of us. We need now to take seriously the decreasing immunity from previous infections," he added, explaining that vaccination is a much more reliable way to maintain immunity than infection.
"They're on an upslope again," Birx told CBS's "Face the Nation."
"Each of these surges are about four to six months apart. That tells me that natural immunity wanes enough in the general population after four to six months that a significant surge is going to occur again. And this is what we have to be prepared for in this country," she said, warning of another spike this summer across the US south.
Birx's warning comes as US cases are again on the rise. Nearly 60% of adults and 75% of children have antibodies indicating that they've been infected with Covid-19, according to new data from the US Centers for Disease Control and Prevention.
It is unclear what that means for protection against future infections, health experts say, and for that reason, the CDC says it is still important to stay up to date on Covid-19 vaccinations and boosters.
YOU ASKED. WE ANSWERED.
Q: Covid-19 data reporting is becoming less frequent. Why is that a problem?
Knowing specifically when cases happened and reporting the data frequently "equipped leaders to act quickly and save lives," Beth Blauer, executive director of the Centers for Civic Impact at Johns Hopkins University, wrote in a recent blog post.
"A possible seven-day lag for noticing changes in disease trends" when reporting shifts from daily to weekly could be "incredibly detrimental during a crisis, limiting the government's ability to intervene and protect people," Blauer wrote.
A year ago, all 50 states were reporting new Covid-19 cases on a daily basis. But that has gradually trailed off. Now, just six states are still reporting daily numbers.
READS OF THE WEEK
Horror as elderly man taken to morgue in body bag — while still alive
Video footage shot by a bystander shows the moment several workers dressed head-to-toe in protective gear recoil as they realize the man is still alive. The person filming the video, apparently from a nearby building, can be heard saying, "The nursing home is such a mess. They sent a living person on a hearse and said they were dead. The undertaker staff said they were still moving … It is irresponsible, really irresponsible."
The footage has since gone viral on Chinese social media, sparking horror and outrage that such a grave mistake could have happened — especially in Shanghai, which has long been seen as China's most progressive and modern city.
The financial hub has become the center of China's wider outbreak, with cases rising and lockdown measures being introduced in numerous cities. For weeks, a lockdown prohibited nearly all 25 million residents from leaving their homes or residential compounds — prompting logistical chaos, with many complaining they were unable to access basic goods like food, water, health products and even medical care for non-Covid emergencies.
Their virus symptoms were minor. Then they had long Covid.
During the height of the Covid-19 summer wave in 2020, Linda Timmer wrote pandemic policies for a domestic violence nonprofit in Arizona. She wasn't aware of being exposed or having any Covid-19 symptoms, but she started experiencing some unusual moments when she felt fatigued or forgetful, along with several episodes of confusion.
"The brain confusion was so unusual for me that I just thought, 'I'm telling everyone to wear masks and follow these policies; I better go get tested, too,'" Timmer said. Not only did she test positive, that was just the beginning of a long battle. Within about two weeks, Timmer had recovered from acute Covid-19 infection. But as she returned to work, she still felt unusual, with problems like overheating, confusion, loss of taste, sound hallucinations and breathlessness. She ultimately decided to retire early, and says she's still dealing with "debilitating" symptoms from long Covid. She is not alone.
Can parents finally celebrate a vaccine for young children?
CNN Medical Analyst Dr. Leana Wen said the most important finding from Moderna's results is that the effectiveness of the vaccine in young kids appears to be similar to the effectiveness in older age groups. The vaccine is 51% effective at preventing symptomatic infection in children ages 6 months to under 2 years and 37% effective at preventing symptoms in children ages 2 to 5.
TOP TIP
Check in on the youth around you.
The mental health of many people has suffered during the Covid-19 pandemic, and new research shows the damage wasn't limited to adults.
The number of suicides among American adolescents between the ages of 10 and 19 increased in five states during the pandemic, according to research looking at 14 states published in the journal JAMA Pediatrics on Monday. In 2021, the American Academy of Pediatrics declared a state of emergency concerning children's and adolescents' mental health.
And while mental health often requires professional help, peers and caregivers should watch for any negative changes in how adolescents express themselves or how they communicate.
If you or someone you know are having thoughts of suicide, call the US National Suicide Prevention Lifeline at 1-800-273-8255 (TALK). For support internationally, a worldwide directory of resources and hotlines is provided by the International Association for Suicide Prevention.