Top Stories
The January 6 insurrection: Minute-by-minute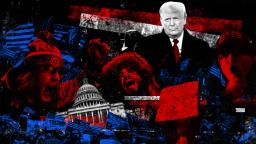 Here's a timeline of some of the most important moments from January 6, based on CNN and others' reporting, Congressional testimony, court filings from the Justice Department, and more. The times are approximate and these events only capture a portion of what happened that day.
7:30 a.m.
9:24 a.m.
9:52 a.m.
Before 10 a.m.
Around 10:15 a.m.
10:47 a.m.
Before 12 p.m.
12 p.m.
Trump begins his speech at the Ellipse, where he repeats many of his election lies and publicly pressures Pence to go along with Eastman's legally dubious scheme.
Around 1 p.m.
1:10 p.m.
1:19 p.m.
Around 2 p.m.
2:13 p.m.
The Senate abruptly adjourns, amid a debate over a GOP objection to Biden's electoral votes from Arizona.
2:14 p.m.
Around 2:15 p.m.
At the White House, Cipollone again tells Meadows that Trump should intervene. Meadows responds by saying Trump "doesn't want to do anything" about the riot and that Trump agrees with the rioters who were calling for Pence to be hanged, according to Hutchinson's testimony.
2:24 p.m.
2:28 p.m.
2:30 p.m.
US Capitol Police begin evacuating lawmakers from the House and Senate chambers, and the Secret Service evacuates Pence from the Senate floor, where he was presiding.
2:32 p.m.
Fox News host Laura Ingraham, who promoted many of Trump's election lies, texts Meadows that "the president needs to tell people in the Capitol to go home," according to messages obtained by CNN.
2:35 p.m.
2:38 p.m.
2:39 p.m.
Around 2:40 p.m.
2:44 p.m.
Around 2:45 p.m.
2:53 p.m.
Sometime before 3 p.m.
Around 3 p.m.
3:09 p.m.
3:13 p.m.
3:15 p.m.
3:31 p.m.
4:05 p.m.
4:15 p.m.
4:17 p.m.
6:01 p.m.
Around 8 p.m.
8:39 p.m.
9:02 p.m.
The House reconvenes.
10:11 p.m.
10:19 p.m.
11:08 p.m.
11:10 p.m.
January 7, 2021
12:40 a.m.
3:10 a.m.
3:42 a.m.
CNN's Holmes Lybrand contributed to this story.