Top Stories
Texas AG Ken Paxton acquitted on 16 charges in state Senate impeachment trial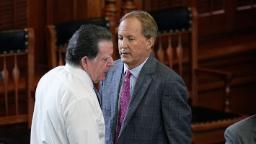 CNN
 — 

Texas Attorney General Ken Paxton on Saturday was acquitted on 16 charges in his state Senate impeachment trial over accusations of repeatedly abusing his office to help a donor.
The outcome is a political victory for Paxton, a hardline conservative and close ally of former President Donald Trump who cast the impeachment proceedings as political retribution over intra-GOP fissures in Texas, where the Republican Party controls all levers of government.
Paxton was reinstated in his role shortly after the vote when Lt. Gov. Dan Patrick certified the acquittal. He had been suspended without pay since May, when he was impeached by the Texas House.
"Today, the truth prevailed. The truth could not be buried by mudslinging politicians or their powerful benefactors. I've said many times: Seek the truth! And that is what was accomplished," Paxton said in a statement shortly after the vote.
The impeachment process began after Paxton requested $3.3 million in taxpayer money to settle a lawsuit with former top staffers who had been fired after reporting the attorney general's conduct to the Federal Bureau of Investigation in 2020.
Whistleblowers accused Paxton of using his authority to benefit political friend Nate Paul, a real estate investor who had donated tens of thousands of dollars to Paxton's campaign. In the settlement, Paxton apologized but did not admit fault or accept liability. He denied wrongdoing and said in a statement that he had agreed to the settlement "to put this issue to rest."
One of the impeachment articles accused Paxton of using employees of the attorney general's office to write a legal opinion intended to help Paul avoid the foreclosure sale of properties that he and his businesses owned.
It was among a series of articles focused on Paxton's relationship with Paul, including accusations he hired an outside attorney who issued more than 30 grand jury subpoenas while investigating a "baseless complaint" made by Paul, delayed foreclosure sales of Paul's properties and benefited from Paul hiring a woman with whom Paxton "was having an extramarital affair."
The articles of impeachment also detailed what are described as Paxton's efforts to cause "protracted" delays in the securities fraud investigation.
Ultimately, the Texas House voted 121-23 to impeach Paxton.
But he found more support in the state Senate. Beyond acquitting Paxton on the 16 counts under consideration, the chamber also voted to dismiss four other articles of impeachment that were brought by the House but not considered during the Senate trial.
The other four articles were related to Paxton's ongoing state securities fraud indictment.
The two-week trial began on September 5 with Patrick instructing senators to avoid any media coverage or outside discussion of the proceedings. Paxton's wife, Angela Paxton, is a state senator and was present at the trial, but she was barred under Senate rules from voting.
A former state legislator who was first elected attorney general in 2014, Paxton rose to national prominence with his court battles against then-President Barack Obama over issues including health care and immigration.
He also led an effort to overturn the 2020 presidential election with a failed lawsuit aimed at throwing out the Electoral College votes of four swing states won by President Joe Biden.
This story has been updated with additional information Saturday.
Source link