Top Stories
Taiwan reports record number of Chinese warships in waters around the island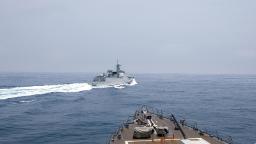 CNN
 — 

A record 16 Chinese warships were spotted in waters around Taiwan in a 24-hour period late last week, the island's Defense Ministry reported, in what analysts said was the latest sign of an intimidation campaign against Taipei by China's ruling Communist Party.
The People's Liberation Army Navy (PLAN) activity in the 24 hours ending at 6 a.m. local time Saturday followed exercises earlier last week that saw dozens of Chinese warplanes fly past the median line of the Taiwan Strait and into the key regions of Taiwan's air defense identification zone (ADIZ).
Over 72 hours in the middle of last week, 73 PLA aircraft either crossed the Taiwan Strait's median line – an informal demarcation point that Beijing does not recognize but until recently largely respected – or entered the southeastern or southwestern parts of the island's ADIZ.
During that same period, nine PLA vessels were reported in waters around Taiwan in three consecutive days.
The 16 Chinese ships around Taiwan on Friday into Saturday was the most since the island's Defense Ministry began providing daily updates of PLA activity around the island in August 2022.
"It is a growing military effort," Carl Schuster, a Hawaii-based analyst and former director of operations at the US Pacific Command's Joint Intelligence Center, told CNN on Monday.
The military operations indicate Beijing's efforts are twofold, he said.
One, constant PLA activities around the island present its defenders with a range of possible attack routes to design defenses for, and two, to "practice, rehearse and train for the 'moment' should it come," Schuster said.
That moment would be a possible Chinese invasion of Taiwan.
China's ruling Communist Party claims the self-governing democracy as its territory despite never having controlled it, and has spent decades trying to isolate it diplomatically. Beijing has not ruled out using force to take control of the island.
Chinese state media on Sunday touted the naval activity, noting the PLAN "breaking the record for the number of vessels deployed in its drills in the region," in a story in Global Times.
"Analysts said Sunday that the recent intensive exercises demonstrate the PLA's capabilities in encircling the island," the Global Times story said.
Neither Taiwan's Defense Ministry nor the Global Times article gave details on what PLA warships were in the waters around Taiwan.
But Chinese state-run media said the PLA exercises "likely featured amphibious landing training" and the story was topped with a picture of a PLAN amphibious assault ship it said was taken "during a maritime real-combat training exercise recently."
Schuster said he expects the PLA to keep increasing the pressure on Taiwan.
"We will see more such exercises and next year's will more complex and larger in terms of units involved and extent of their activities," he said.
Source link