Top Stories
Sweden: Turkey condemns Quran burning protest in Stockholm as a 'heinous act'


CNN
 — 

Turkey condemned a decision by Swedish authorities to approve a small Quran-burning demonstration outside a mosque in Stockholm on Wednesday, a move that may jeopardize Sweden's bid to join NATO before the bloc's key summit in July.
A single person took part in the planned Quran burning in the Swedish capital and images of the event show he was the only person apart from his translator at the demonstration, which coincided with the Muslim holiday of Eid-al-Adha, one of the most significant in the Islamic calendar.
The decision to permit the protest was made in accordance with the right of freedom of speech, Swedish police said, adding that the demonstration does not pose an immediate security risk.
But allowing such an inflammatory protest stirred a backlash in Turkey, a NATO member state that has obstructed Sweden's accession bid. Sweden and neighboring Finland both formally applied to join the bloc after Russia launched its invasion of Ukraine."
Turkey's foreign minister condemned the protest on Wednesday, calling it a "heinous act."
"It is unacceptable to allow these anti-Islamic actions under the pretext of freedom of expression. To turn a blind eye to such heinous acts is to be complicit in them," Hakan Fidan said in a statement.
The Turkish government's Director of Communicaitons Fahrettin Altun added in a tweet: "We are sick and tired of enabling of Islamophobia and continued instances of hatred for our religion on the part of European authorities especially in Sweden."
"Those who seek to become our allies in NATO, cannot tolerate or enable destructive behaviors of Islamophobic and xenophobic terrorists," he said.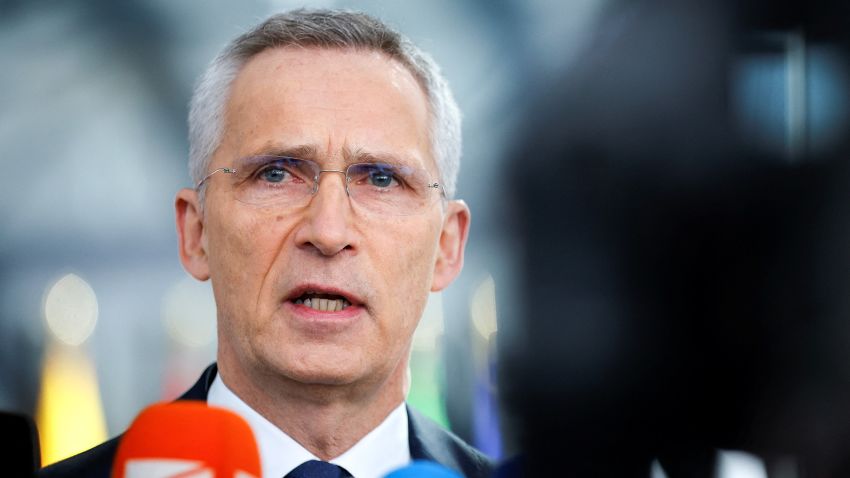 Stoltenberg: Sweden has "fulfilled its obligations" for NATO accession
NATO officials are hoping to avoid the embarrassment of seeing the alliance miss its own stated aim of admitting Sweden to the alliance by July 11 – the date of its next official summit in the Lithuanian capital Vilnius. Officials fear that missing this deadline will send a humiliating and potentially dangerous message to the alliance's adversaries.
Turkey – a strategically important NATO member due to its geographical location in both the Middle East and Europe, and the alliance's second-largest military power – has proven the greatest obstacle to Sweden's NATO accession bid.
Earlier this year, Turkish-Swedish relations suffered a major blow following a rally outside Stockholm's Turkish Embassy during which an anti-immigration politician set a copy of the Quran alight.
The incident sparked anger in the Turkish capital, Ankara, where protesters took to the streets and burned the Swedish flag outside the Swedish embassy in response.
At the time, the then Turkish foreign minister reportedly blamed the Swedish government, saying it had "taken part in this crime by allowing this vile act" to go ahead, according to state news agency Anadolu.
An Eastern European diplomat told CNN that as well as "emboldening the enemies" of NATO, any delay to Sweden's accession risks "giving the sense of Erdogan's power over the alliance." The diplomat added that "Erdogan will use the moment to squeeze every drop from this situation and will throw the ball to Sweden – making them hostage of their (own) anti-terrorist laws."
Speaking at a press conference Tuesday, Swedish Foreign Minister Tobias Billstrom said that Sweden has fulfilled the necessary requirements set out by Turkey in order to join NATO, including introducing a new terrorism law.
"New legislation has recently entered into force in Sweden that makes it illegal to participate in a terrorist organization in any way that promotes, strengthens or supports it. We are thereby delivering on the last parts of our agreement," Billstrom said.
But the decision to permit a Quran-burning protest may further damage Sweden's relations with Turkey and dent the country's hopes to join NATO.
Speaking to CNN on the phone earlier on Wednesday, the protester Salwan Momika said he came to Sweden five years ago from Iraq and has Swedish citizenship. He told CNN he identifies as an atheist.
He said he was doing this demonstration after three months of legal battles in court.
"This book should be banned in the world because of the danger it causes to democracy, ethics, human values, human rights, and women's rights. It just doesn't work in this time and age," he said.
A police permit obtained by CNN states that the "security risks and consequences connected to a Quran burning are not of such a nature that, according to current law, they can be the basis for a decision to reject an application for a general meeting."
The permit for the demonstration says that Quran burnings "mean an increased risk of a terrorist attack" and "can also have foreign policy consequences."
However, it added that for "security problems to be the basis for a decision to refuse a general assembly, these must have a clear connection to the planned gathering or its immediate surroundings."
Authorities granted permission for the gathering according to certain conditions, including a fire ban in place in Stockholm since June 12, which "applies until further notice."
Speaking to CNN on the phone, Stockholm police spokesperson Helena Bostrom Thomas said that police had informed the applicant to find out about those restrictions but added that "freedom of speech weighs heavier than if he acts against the restrictions of the fire ban."
Source link