Top Stories
Southeast tornadoes: More than 30 tornadoes reportedly hit as severe weather strikes the region on Thursday, leaving at least 7 people dead


CNN
 — 

At least seven people, including a child, were killed Thursday as severe storms swept across the South, where ferocious winds sent residents running for cover, blew roofs off homes and knocked out power to thousands.
Damaged powerlines, severed tree limbs and debris littered streets in Alabama, Georgia and Kentucky, where at least 35 preliminary tornado reports were recorded as of Thursday evening, according to the Storm Prediction Center.
Six people died in hard-hit Autauga County in central Alabama, where search efforts will continue Friday, county coroner Buster Barber told CNN.
"My prayers are with their loved ones and communities," Alabama Gov. Kay Ivey said in a tweet. "We are far too familiar with devastating weather, but our people are resilient. We will get through it and be stronger for it."
A 5-year-old child was killed in Butts County, Georgia, after a tree fell on top of a car, the county's coroner Lacey Prue told CNN affiliate WSB.
In Selma, Alabama – known for its role in the Civil Rights Movement in the 1960s and home to about 17,000 people – the storms left behind a trail of widespread destruction.
Krishun Moore's house was torn up when a storm swept across her neighborhood, sending her and her mother to shelter in their bathroom, she said.
"All we heard was wind and the whole house was shaking," Moore told CNN, adding that no one was injured.
At a Selma tax office, Deborah A. Brown said she and others had to rush to safety after seeing what looked like a tornado rolling down the street.
"We could have been gone, y'all," Brown says in a Facebook video. "We had to run for cover. We had to go run and jump in the closet."
Thursday's severe storms left more than 50,000 homes and businesses in the dark across Georgia, Alabama and North Carolina, according to tracking site Poweroutage.us early Friday morning.
Selma Mayor James Perkins Jr. asked residents to conserve water as their treatment facilities are affected by the power outages.
"We've got to layer up and get ready," Perkins said as temperatures in the area began to fall, with overnight lows over the next several days to dip below freezing.
Governors in Alabama and Georgia both declared states of emergency in stricken areas to help with rescue and cleanup efforts.
"We always keep in mind that while weather events are intriguing from a scientific perspective, they can result in deep and lasting impacts to people. Our thoughts are with those impacted by today's severe weather," the National Weather Service in Birmingham said in a tweet.
In addition to destruction caused by tornadoes and powerful storms, damaging winds spun across the region from Mississippi to Virginia.
In northeast Mississippi, several buildings lay flattened or severely damaged in Monroe County after a storm passed through Thursday morning, video tweeted by the state's emergency management agency shows. No injuries were reported there, the agency said.
One tornado in Alabama reportedly stayed on the ground for at least 50 miles, inflicting damage to seven counties, according to National Weather Service Meteorologist Gerald Satterwhite.
"It was a pretty significant tornado," Satterwhite told CNN, adding that debris was flung into the air to about 10,000 to 15,000 feet.
Tornado damage in Dallas County – home to Selma – spanned the length of the county, coroner William Alan Dailey said in a video conference.
Priscilla Lewis, who shared photos of the damage in Selma with CNN, said the damage made it nearly impossible to leave the downtown area Thursday. No deaths were reported in Dallas County as of Thursday, but some residents suffered injuries.
"This is a disaster area. Power lines are down and trees are down – this is really dangerous," Dallas County Probate Judge Jimmy Nunn said during a news conference.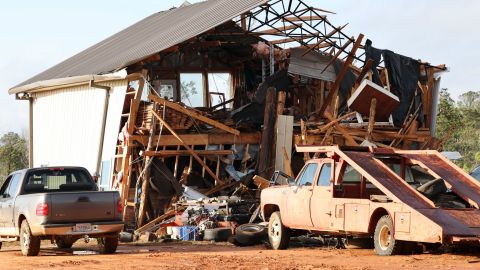 In Autauga County, at least 20 homes were either damaged or destroyed, according to Gary Weaver, the deputy director of the county's emergency management agency.
Multiple damage survey teams will be in the field over the next several days across the area, the National Weather Service in Birmingham said.
Across the South and Central US, more than 160 damaging wind reports were recorded in Mississippi, Georgia, Florida, South Carolina, North Carolina, Tennessee, Kentucky and Virginia.
Additionally, 19 severe hail reports were recorded in Kentucky, Ohio, Alabama, West Virginia, Mississippi, Tennessee and Georgia.
The storms are the latest bout of severe weather to turn deadly in the US as many experts point to the adverse impacts of human-induced climate change as a cause for such extreme events. Millions in California are reeling from torrential rain that flooded many areas across the state, killing at least 18 people and leaving thousands without power.
Due to the storms' extensive impact on some roads in Georgia, some students had been unable to leave four middle schools south of Atlanta, according to their school system Thursday night.
By Friday morning, more than two dozen students were reunited with their families, Griffin-Spalding County School System said in a social media post, after being required to shelter on school grounds because storm debris had blocked access to roadways.
Spalding County, where the school district is located, declared a state of emergency Thursday due to a reported tornado in the community, officials said on Facebook, urging residents to shelter in place. Parts of the state were under a tornado watch Thursday night.
"When you start getting onto the roads, there's going to be no way to get to where you're going," said T.J. Imberger, Spalding County public works director.
The Griffin-Spalding School District will be closed Friday as the area recovers from the severe storms.
Source link