Top Stories
Six people were injured near an Oakland, California school campus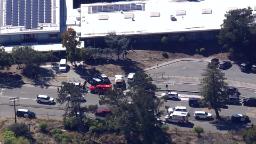 CNN
 — 

Six people were injured in a Wednesday shooting at an East Oakland, California, school campus, authorities told CNN.
All six victims had apparent gunshot wounds, Oakland Police Lt. Casey Johnson told reporters at the scene. Three of the victims were transported to Highland Hospital and were in critical condition, Chief Administrative Officer Mark Brown told CNN affiliate KGO. Hospital spokesperson Eleanor Ajala could not provide any details on those victims' ages or injuries.
The other three victims were taken to Eden Medical Center, said a hospital spokesperson who also could not share the victims' ages or conditions.
No suspect was in custody Wednesday afternoon, police spokesperson Paul Chambers told CNN. Officers were preparing to conduct a "methodical" search of the school looking for additional evidence, Chambers said. Authorities do not yet know if the shooting was a random incident or targeted among people who knew each other, Chambers said.
The Oakland Unified School District said in a Wednesday statement there was an incident at "the King Estate campus on Fontaine Street, which houses the co-located Rudsdale Continuation and Newcomer high schools, BayTech Charter School, and the headquarters of Sojourner Truth Independent Study."
"The campus is near Oakland Academy of Knowledge (OAK), but it is important to note the incident was NOT at OAK, nor did it have anything to do with that elementary school," the statement said.
The Bureau of Alcohol, Tobacco, Firearms and Explosives (ATF) was also responding to the scene, the agency said Wednesday afternoon.