Sports
Six Nations 2023: 'Pressure' on Alex King over Warren Gatland's Rob Howley revelation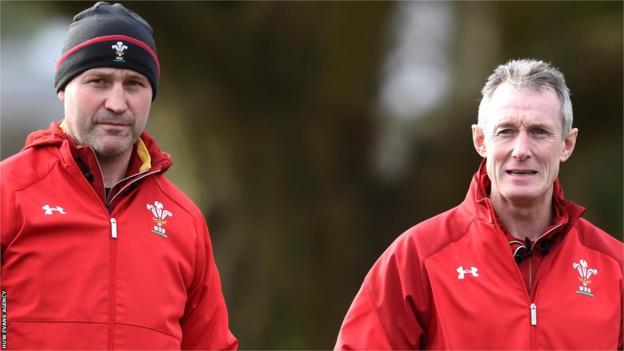 Former captain Scott Quinnell says Warren Gatland has put pressure on new Wales backs coach Alex King by saying he wanted Rob Howley in the role.
Gatland said the Welsh Rugby Union (WRU) blocked Howley's return following his 2019 ban for breaking betting rules because "the timing wasn't right".
Quinnell said he was "surprised" Gatland spoke out.
"It's typical Gats. If it's on his chest, if it's in his heart, he'll say it," said Quinnell.
"With Alex King coming in to coach, you would have thought you wouldn't want to put a bit of pressure on him already before his coaching has started in this Six Nations campaign."
However, ex-Llanelli, Wales and British and Irish Lions number eight Quinnell understands Gatland's desire to bring Howley back into the fold from his role as assistant Canada coach.
Quinnell says he would also now "forgive and forget" Howley's downfall, which saw him leave the Wales camp six days before their 2019 World Cup campaign kicked off and later receive an 18-month ban, half of it suspended.
"Gats likes comfort around him," said Quinnell, who also played rugby league for Wales.
"He can't have (forwards coach) Robin McBryde because he's with Leinster. He can't have (defence coach) Shaun Edwards because he's with France so he would have liked Rob Howley around him.
"He would have liked the fact he was walking into his office and it was a familiar face.
"Yes, he's got Neil Jenkins in there – that's been consistent throughout his coaching career."
Gatland has also insisted he is happy with King's appointment and Quinnell says he must be supported as the Six Nations looms with Wales' campaign starting against Ireland in Cardiff on Saturday, 4 February.
King was Wales backs coach for the 2017 tournament as assistant to his former Wasps half-back partner Howley while Gatland was preparing for the Lions' tour to New Zealand that year.
"We've got to back Alex King now. He's done the job before for a short period of time," said Quinnell.
"He's come in, he was a wonderful player and a wonderful guy and hopefully he gets that backline firing.
"But there's going to be a time where we've got to say 'Rob Howley, forgiven and forgotten, get on with it, just enjoy your coaching' and I'm sure you'll do that with Canada'."
Quinnell also predicts a successful Wales tournament, saying: "This is the best opportunity for us to win [it] because we've got Ireland at home, we've got England at home and we can beat both of those sides at home.
"We're capable of doing it if we play to the best of our ability."
Wales also go to Scotland, France and Italy with Quinnell believing Wales can pick up wins on the road.
"So my head says 'it's going to be tough,' but my heart says 'yeah, Grand Slam, thank you all the way'," he said.
Source link