Top Stories
Shinzo Abe was shot in the right side of his neck, officials say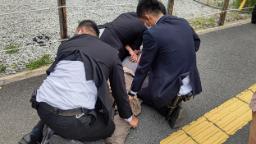 A number of world leaders have shared their well wishes and messages of concern for former Japanese Prime Minister Shinzo Abe after he was shot on Friday.
Speaking before before a meeting with Indonesia's Foreign Minister Retno Marsudi at the G20 foreign ministers meeting in Bali, US Secretary of State Antony Blinken said he was "deeply saddened."
"I do have to say before we meet how deeply saddened and concerned we are by the news coming from Japan about the attempt on the life of Prime Minister Abe," Blinken said. "We don't know his condition … Our thoughts, our prayers, are with his family, with the people of Japan. This is a very, very sad moment and we are awaiting news." 
Marsudi added that representatives from the G20 also conveyed their "sympathy and our prayers" for Abe.
Australian Prime Minister Anthony Albanese wrote in a Twitter post: "Shocking news from Japan that former PM Shinzo Abe has been shot – our thoughts are with his family and the people of Japan at this time."
Former Australian Prime Ministers Scott Morrison and Kevin Rudd, whose time in office overlapped with Abe, have also separately posted their own messages.
"PM Abe is a great and wise friend of Australia and one of the most important global leaders of the post war era. Our prayers are with him, his wife Akie and the people of Japan at this very difficult time," Morrison wrote.
Taiwan's President Tsai Ing-wen also denounced the shooting, calling Abe a good friend in a Facebook post.
Mexican Foreign Minister Marcelo Ebrard wrote on Twitter that he deeply regrets the shooting. "We hope that he can overcome the serious medical situation in which he finds himself," he wrote.
Source link