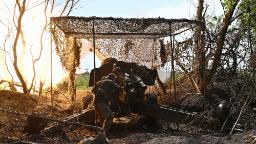 Sixty miles northeast of Melitopol, a Ukrainian counteroffensive is grinding laboriously through Russian-held territory, hoping to liberate regions from the grips of Moscow's rule.
But in this city – one of the first captured by Russian forces after their invasion last February – another operation is in full swing. There is one key difference: everyone knows how this one is going to end.
Voting is underway in Russia-occupied parts of eastern and southern Ukraine, as Moscow attempts to exert authority with elections the international community have widely dismissed as a sham.
Campaign material has apparently been dropped in from Russia to give the appearance of a proper contest. "It seems like there is nothing left in the city except the headquarters of (Russia's ruling party) United Russia, the military and the billboards," said a Melitopol resident in her early 30s who has refused to flee the city. CNN is referring to the woman by the pseudonym Baska, because of concerns for her safety.
"The election results are already well known," she said, predicting low turnout even among those in the city that support Russia. "People are generally apolitical, inert and know who will win anyways."
Russia held similar sham referendums in the four regions of Donetsk, Zaporizhzhia, Kherson and Luhansk last year, in an attempt to project authority over the parts of Ukraine its troops had captured. The new round of elections is being held alongside local votes inside Russia.
While Melitopol was struck earlier in the year by Ukrainian missile attacks on Russian targets, recently, it has been quiet. "People here do not feel the war. If last year almost every person standing at the queue at the market was talking about Mariupol or Crimea, now people have different feelings," Baska added. "There are now fewer local people in the city than newcomers … soon there will be a complete replacement of the local population (by Russians), it feels like."
Few residents in Melitopol are interested in the bogus elections taking place, Baska told CNN. But to Moscow, the votes across occupied Ukraine are another tool through which to enforce control – even if international observers are unmoved.
Source link