Top Stories
San Francisco District Attorney Chesa Boudin recalled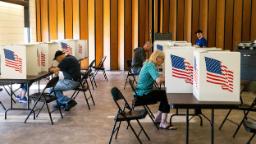 Concerns about crime and homelessness are on display in two of the biggest Democratic cities in California as voters cast their ballots in the primary election on Tuesday.
Ron Brownstein, CNN senior political analyst, said the issues of safety are sending "shockwaves" through the political landscape — both narrowly in local elections and more broadly as Democrats fight for control in Congress in November.
"On one the hand, it shows just how much — even in Democratic strongholds — there's broad concern now about public safety that extends across racial lines," he told CNN's Don Lemon. "This is evident in every community in the city." 
Brownstein said it also shows the challenges Democrats face as a party "when people feel certainty is withdrawn from their life."
"When you are the party in power and people feel like they can't count on basic rules of, kind of, you know, daily life — from the price of gas to the ability to walk their kids to school without being accosted by someone who seems like a danger to themselves or to others, that I think is a very dangerous position for the party in power," he said.
Real estate developer Rick Caruso and US Rep. Karen Bass have emerged as the frontrunners in the race for Los Angeles mayor to succeed term-limited Democrat Eric Garcetti. Caruso has made crime a focus of his campaign.
Caruso, who served as a former city police commissioner, has poured millions of his own money into the race, pledging to tackle corruption, and homelessness and address the city's crime rate by increasing the size of the police force. In a television ad, the former Republican said he was running "because the city we love is in a state of emergency," citing "rampant homelessness" and "people living in fear for their safety."
In San Francisco District Attorney Chesa Boudin is facing a recall election. He facescriticism that his progressive prosecutor model has made the city less safe.
A number of high-profile, viral shoplifting incidents, rancor in Boudin's office and a broader, national pushback against his style of law enforcement — which prioritizes rehabilitation over the "tough on crime" approach — is putting Boudin's fate in doubt.
CNN's Eric Bradner, Dan Merica and Gregory Krieg contributed reporting to this post.
Source link