Top Stories
Richneck Elementary remains closed 2 weeks after 6-year-old allegedly shot teacher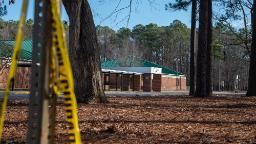 CNN
 — 

The Virginia school where a first-grade student allegedly shot and critically injured his teacher January 6 will remain closed through January 20, according to an update posted on the school's website.
Richneck Elementary in Newport News has been closed since the day of the shooting, which police have described as "intentional."
Teacher Abby Zwerner, 25, has been praised for her heroic actions keeping her students safe after being shot.
Zwerner was shot through the hand, Newport News Chief of Police Steve Drew told reporters Monday, by a bullet that then hit her in the chest.
"We continue to keep Ms. Zwerner in our thoughts and prayers. She is continuing to improve every day. Our thoughts are also with our students, families and staff. Stay strong!" the school said in Sunday's update.
Police said last Monday that the boy – who was taken into custody immediately after the shooting – was under a temporary detention order and being evaluated at a hospital.
The gun allegedly used in the shooting was legally purchased by the child's mother, who could face charges at the end of the investigation, according to Drew. The child brought it to school Friday in his backpack. It remains unclear how the child accessed the weapon.
Under Virginia law, it's a misdemeanor if an adult leaves a loaded, unsecured firearm in such a way it could endanger a child under the age of 14. The statute also says it is unlawful for a person to unknowingly allow a child under the age of 12 to use a firearm.
The Richneck shooting was the first of 2023 at a US school, according to a CNN analysis. In 2022, there were 60 shootings at K-12 schools, the CNN analysis shows.
Still, school shootings by a suspect so young are relatively rare. According to the K-12 School Shooting Database, which tracks shootings in American schools going back to 1970, there have been three other cases in which the suspect was as young as 6: in 2000, 2011 and 2021.
Source link