Top Stories
Prosecutors drop charges against NYPD officer accused of acting as foreign agent for China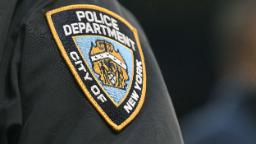 New York
CNN
 — 

Federal prosecutors in Brooklyn moved to dismiss charges against a New York Police Department officer who had been accused of acting as a foreign agent on behalf of the Chinese government.
Baimadajie Angwang, 33, was charged in September 2020 with acting as a foreign agent for China without notifying American authorities, wire fraud, making false statements and obstruction of an official proceeding, according to court documents.
But on Friday, prosecutors for the US Attorney's Office of the Eastern District of New York filed a motion to dismiss the indictment.
"As a result of our continued investigation, the government obtained additional information bearing on the charges," prosecutors said in the document. "Having assessed the evidence as a whole in light of that information … the government hereby moves, in the interests of justice, to dismiss the indictment without prejudice."
A federal judge must now sign a court order to officially dismiss the indictment. CNN has reached out to the US Attorney's office for additional comment on the motion.
The 2020 arrest was one of a number of federal cases brought against Chinese Americans connected to the Trump Administration's "China Initiative," a Department of Justice program focused on "countering Chinese national security threats." The program was scrapped in February 2022 under the Biden Administration after a string of case dismissals and criticisms it fueled suspicion and bias against innocent Chinese Americans.
"Anything that creates the impression that the Department of Justice applies different standards based on race or ethnicity harms the department and our efforts, and it harms the public," assistant attorney general for national security Matthew Olsen said last year in ending the program.
Angwang, an ethnic Tibetan, joined the NYPD in 2016 and worked as part of the community affairs unit based in Queens. A naturalized US citizen, he came to the US from China on a cultural exchange visa, overstayed his second visa and eventually applied for asylum, claiming he was "arrested and tortured" in China due in part to his Tibetan ethnicity, according to the complaint.
He is a former Marine who served in Afghanistan in 2013, according to his service record. Since 2014, he served as a US Army Reservist, where he was a staff sergeant working as a civil affairs specialist.
Prosecutors said in the 2020 complaint an investigation revealed Angwang allegedly acted at the direction and control of Chinese officials to report on activities of ethnic Tibetans in the New York City area to the consulate, and helped spot and assess potential Tibetan intelligence sources.
He was suspended at the time of the charges. CNN has reached out to NYPD officials for comment on his current employment status.
In court documents, defense attorneys argued the government had a "hyper-suspicious" view of Angwang's interactions with the Chinese consulate official and had cherry-picked quotes and cut out others from their conversations. Angwang's only goal in cultivating a relationship with the official was because the official had power to grant or deny visa applications for New York-based ethnic Tibetans, like himself, trying to return to China, the attorneys wrote.
"Mr. Angwang can be seen not only lobbying for his own visa, but for all ethnic Tibetans who desire improved opportunities to visit the place of their birth," attorney John Carman wrote in a February 2021 document. "The idea that Mr. Angwang is an 'intelligence asset' collecting information about his fellow Tibetans is simply not borne out by the transcripts of the conversations."
CNN reached out to Angwang's attorney for comment.
The Chinese consulate in New York issued a statement at the time of Angwang's arrest, describing its work as "above board and beyond reproach."
"The staffs of the Chinese Consulate General in New York have always been fulfilling duties in accordance with international law and the law of the United States," the statement said. "They have been conducting normal exchanges with various sectors of society in its consular district, and have been committed to promoting friendly communication and exchanges between the Chinese people and the people from all works of life in its consular district."
Source link