Sports
Premiership Women's Rugby: Trailfinders Women and Leicester Tigers 'the new kids on the block'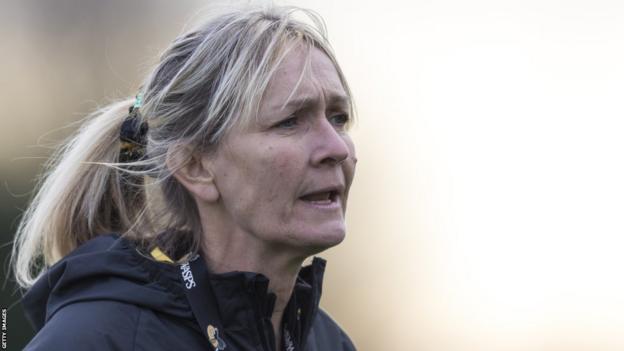 They are "the new kids on the block" looking to "come up and change things rapidly".
Trailfinders Women and Leicester Tigers will play their first Premiership Women's Rugby matches this weekend – just short of a year after their places in the league were confirmed.
They will be part of a rebranded top division featuring nine teams and star names including the newly crowned World Player of the Year – Saracens and England captain Marlie Packer.
Trailfinders open their league season on Saturday with a home game against neighbours Harlequins Women at the Sports Ground.
More than a thousand tickets have already been sold, and director of rugby Giselle Mather knows it won't be an easy opener for her side.
"They are a very established team, and with us being new kids on the block they probably want to make sure they hold the status of them being around for a long time," she said.
"As typical youngsters, we want to come up and change things rapidly."
Amy Turner's Quins outfit are certainly established, having reached three finals, and won the title in 2021.
Among their ranks is 2014 World Cup winner and league stalwart Rachael Burford, who at 37 has signed up for a "final season" at the club.
She will be hoping to help steer Quins back into the top four having missed out last season.
But none of it fazes Mather, who is part of the fabric of women's rugby in England.
A World Cup winner in 1994, she coached Wasps Women prior to joining Ealing in 2022 and has helped develop the pathways for women's rugby at the club, with link-ups with Brunel University and Henley College flourishing.
Her efforts have already led to Brunel Women being promoted to the Premier South division – one step away from top-flight university rugby in the BUCS Women's National League.
Those pathways are important, of course, but being a competitive team in the PWR with an 11-month lead-up time will be the real acid test.
Their signings include England wing Abby Dow and prop Liz Crake – who both played for Mather at Wasps – and the arrival of USA captain Kate Zackery from Exeter Chiefs was another coup.
"We want to be highly competitive," said Mather. "We will be a real challenge for a lot of teams."
That, ultimately, is what the league hopes, with DMP Durham Sharks and Wasps Women no longer involved after leaking more than 1,000 points apiece in 18 games last season.
Like Trailfinders, Leicester also arrive at the top table of English women's rugby for the first time.
"We need to be competitive – that is absolutely our goal," said head of women's rugby Vicky Macqueen.
While their fellow newcomers are entering the league structure at the top, Leicester had been playing in the Women's Championship – so Macqueen already had a strong stable of players.
But she still needed some PWR stardust to show the club's intent. Cue the signings of England hooker Amy Cockayne from Harlequins and Red Roses centre Meg Jones, who was co-captain in with the GB Sevens set-up.
The Tigers' approach to women's rugby is described by Macqueen as having a focus on being "sustainable" but also recognising the club "is so much bigger than a men's rugby team now".
She includes all of the Tigers' community sides in the "family" and credits chief executive Andrea Pincheon with being the person who "shook it up" to take women's rugby to Mattioli Woods Welford Road.
Leicester's opening game is on Sunday, when they face last year's finalists Exeter Chiefs.




Source link