Top Stories
Pentagon releases photo of Chinese spy balloon in air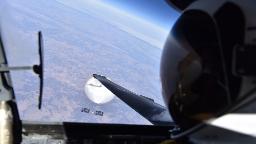 CNN
 — 

The US Defense Department has released a selfie taken in the cockpit of a U-2 spy plane, as an airman flew above the Chinese surveillance balloon that was shot down by the US military earlier this month.
The selfie, taken by the pilot of the U-2, shows the shadow of the aircraft on the balloon and a clear image of the balloon's payload as it crossed across the continental United States. CNN first reported the existence of the selfie.
The balloon was first spotted by the US on January 28 and ultimately shot down by the US military off the coast of South Carolina after crossing the country.
A senior State Department official said earlier this month that fly-bys "revealed that the high-altitude balloon was capable of conducting signals intelligence collection operations."
Officials said they'd decided against shooting the balloon down over the US because of its size, fearing falling debris could hurt civilians or property on the ground. Gen. Glen VanHerck, commander of US Northern Command and North American Aerospace Defense Command, later said the balloon was 200 feet tall with a payload that weighed a couple of thousand pounds.
Officials also maintained that the balloon was not capable of conducting significant intelligence collection, in part because the US took steps to protect against it immediately upon spotting it.
The U-2 is a single-seat, high-altitude reconnaissance and surveillance aircraft with "glider-like characteristics," according to the Air Force. Because the planes are regularly "flown at altitudes over 70,000 feet," pilots "must wear a full pressure suit similar to those worn by astronauts."
The photo released on Wednesday clearly shows the pilot flying above the balloon, which was hovering 60,000 feet when it was spotted over Montana.
Recovery efforts began immediately after the balloon was shot down over the Atlantic Ocean on February 4, and were concluded on February 17. Pieces of the debris were transferred to the Federal Bureau of Investigation Laboratory in Virginia to be studied further.
Deputy Pentagon press secretary Sabrina Singh said Wednesday that the payload of the balloon had been recovered.
Source link