Top Stories
Pentagon leaks suspect Jack Teixeira pleads not guilty to federal charges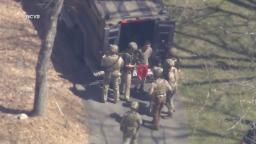 Worcester, Massachusetts
CNN
 — 

Jack Teixeira, the Air National Guardsman accused of leaking highly classified military documents on social media, pleaded not guilty in a Massachusetts court Wednesday to six federal charges.
Teixeira, 21, was indicted earlier this month on several counts of willful retention and transmission of classified information related to the national defense. He has been held in federal custody since his arrest in April.
The Massachusetts native stands accused of sharing classified military documents on the social media platform Discord. The documents included detailed intelligence assessments of allies and adversaries alike, including the state of the war in Ukraine.
According to prosecutors, Teixeira, a junior enlisted airman who worked within the Massachusetts Air National Guard's 102nd Intelligence Wing, began posting information about the documents online around December 2022, and photos of documents in January.
Teixeira held a top-secret security clearance, and internal Air Force memos that prosecutors highlighted in court revealed that his superiors repeatedly warned him about inappropriately accessing classified intelligence.
Lawyers for Teixeira have argued in court that their client didn't expect classified information that he posted on Discord to be further spread around the internet and have slammed prosecutors for overstating the danger that Teixeira poses to national security.
Texeira smiled and waved at his family when he entered the courtroom. Later, as he pleaded not guilty to each count during the brief hearing, Teixeira stood with his lawyers in an orange jumpsuit and rosary beads in front of the judge.
"We remain as committed as ever and our entire family continues to share complete and unwavering support of Jack as he faces this matter," family spokesperson Jen Reed said. "The important thing is Jack will now have his day in court. And as we move through this process, we are hopeful that Jack will be getting the fair and just treatment he deserves."
The next hearing in Teixeira's case is set for August 9.
This story has been updated with additional details.
Source link