Sports
Nigel Owens: Ex-Test referee fears 'difficulty' for officials over new English tackle laws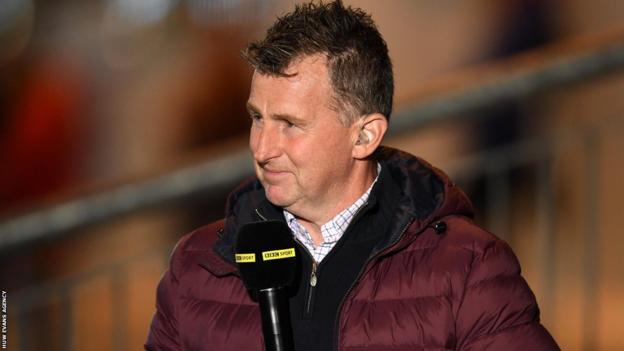 Former international referee Nigel Owens says new tackle laws in English rugby from 1 July, 2023 will make life "difficult" for match officials.
The tackle height will be lowered to the waist from next season for all levels apart from the Premiership and Championship.
Welshman Owens also says "a huge shift" in player behaviour will be needed .
"Most importantly there needs to be total clarity for the referees because it is a contact sport," said Owens.
"It is going to be very difficult, I would think, unless there is total clarity around this to have a shift in the behaviour to referee it."
The Rugby Football Union (RFU) – English rugby's governing body – says it will provide clarity regarding the new tackle laws amid fears of a mass player exodus.
The RFU says "detailed guidelines" will be sent out to players, coaches and referees.
However, numerous clubs, players, coaches, and officials have expressed their concerns to the BBC, branding the law change unworkable, lamenting a lack of consultation, and fearing a mass player departure from the sport.
Meanwhile a petition calling for the RFU to reverse its decision has amassed more than 50,000 signatures in the two days since its launch on Thursday.
The RFU says its decision has been taken after six years of studies, and insists there is strong data-led evidence to show that lowering the height of the tackle reduces the risk of 'head acceleration events'.
It has also taken guidance from a successful waist-high trial in France, which applied to the sixth tier and below.
The RFU has pledged to provide players, coaches and match officials with a "multi-format programme of training and technical support" to prepare them for the new laws.
"Anything that comes in to enhance player safety, because that is paramount in the game, it should be welcome," Owens told BBC Radio 5 Live.
"The only issue is there is a lot of questions around this by the players who play the game, ex-players and officials and everybody involved in the game so there's a lot of questions around this at the moment which we are finding it difficult to get answers to.
"It's going to be very interesting to see how it all plays out, how will the game look and will it be a much safer game."
He added: "I don't think people are signing a petition not wanting to make the game safe.
"They are signing it because they want to know how this is going to better the game, how is it going to make the game safer.
"That is where the issues are questions with people around this.
"If the ball carrier is going to ground near the try-line, how are you going to be able to get below his waist to tackle him?
"How do you now set up a maul? Because the ball-carrier is on his feet, the defenders wraps around him and you can't join a maul below the waist.
"That is what causing the issues at the moment – there are a lot of question marks and that is what needs to be addressed."
Owens also responded to listeners questions about the game, in which he said "everybody" would support changes that "enhance" player safety and the sport as a spectacle.
"But the problem you have at the moment, there's a lot of questions around this; concerns from the people playing the game who are actually making those tackles… and this is why I think you are seeing this conversation and petitions being signed at the moment."
Source link