Sports
NFL play-offs: Cincinnati Bengals, New York Giants and Buffalo Bills earn nervy wins on wildcard weekend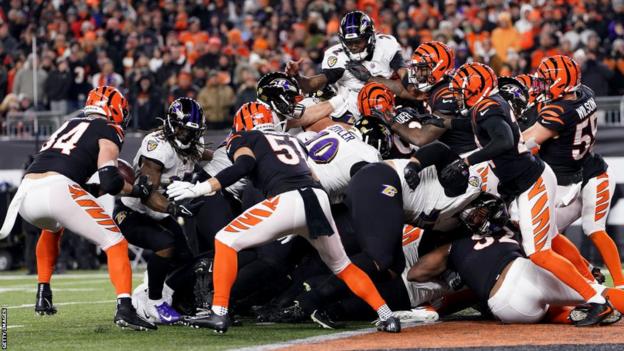 Dates:
Saturday, 14 – Monday, 16 February
Live text coverage:
On BBC Sport website and app on Saturday (21:00-04:00 GMT), Sunday (17:30-04:00) and Tuesday (00:45-04:30)
Sam Hubbard produced the longest fumble return in play-off history to hand the Cincinnati Bengals a 24-17 win over the Baltimore Ravens on wildcard weekend.
The defensive end ran 98 yards in the fourth quarter to send last season's Super Bowl runners-up into week two of this season's play-offs.
Earlier on Sunday, the New York Giants upset the Minnesota Vikings 31-24.
And the Miami Dolphins gave the Buffalo Bills a scare before the pre-season Super Bowl favourites won 34-31.
Cincinnati's win brought a nail-biting end to a thrilling day two of the wildcard weekend as all three games went down to the wire.
The opening touchdown by Bengals receiver Ja'Marr Chase was cancelled out by a JK Dobbins score as Baltimore led 10-9 at the half.
Cincinnati quarterback Joe Burrow then got in from a yard to cap an 83-yard drive before Tyler Huntley, covering for injured Ravens quarterback Lamar Jackson, hit Demarcus Robinson for a 41-yard touchdown.
That tied the score heading into the final quarter and as Huntley reached for the end zone from a yard, the ball was knocked loose. It fell straight into Hubbard's arms and he rumbled downfield for an unlikely match-winning score.
Giants earn first play-off win in 11 years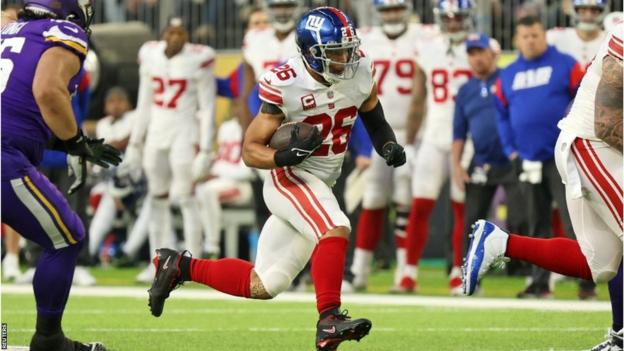 The New York Giants led for most of the game at Minnesota, the third seed in the NFC, as fourth-year quarterback Daniel Jones claimed a road victory in his first play-off appearance.
Giants running back Saquon Barkley claimed a combined 109 yards and two rushing touchdowns, the first from 28 yards, as New York gained a half-time lead of 17-14.
Each team scored a touchdown in the third quarter, before a Vikings field goal made it 24-24 early in the fourth.
Barkley then capped a 12-play drive with a two-yard score to restore New York's lead and they held on for their first play-off victory since winning their fourth Super Bowl at the end of the 2011 season.
Jones also became the first quarterback in play-off history to throw for more than 300 yards and two touchdowns while adding more than 70 rushing yards.
Next weekend the Giants will travel to NFC East rivals the Philadelphia Eagles, who as the number one seeds had a bye to the divisional round.
Hamlin continues to inspire Bills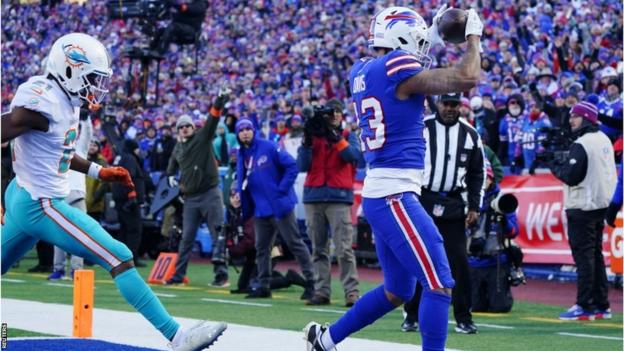 Miami recovered from a 17-0 deficit to briefly lead 24-20 against a Buffalo team which continues to gain inspiration from team-mate Damar Hamlin.
The Bills' safety watched Sunday's game from home as he continues to recover from the cardiac arrest he suffered on the field on 2 January but on Saturday he visited the team for the first time since the incident.
"There was a big line of guys ready to love up on him," said quarterback Josh Allen, who had three touchdown passes and two interceptions. "It was a blessing come true to see him back in the facility."
Buffalo are the AFC's number two seeds and looked on course for a blowout win after scores by Dawson Knox and James Cook.
Miami lost five of their last six games and had to play third-choice quarterback Skylar Thompson but drew level when the rookie found Mike Gesicki for a touchdown.
A field goal edged the Bills into a 20-17 lead at the half, only for Zach Sieler to score a defensive touchdown for the Dolphins after Allen fumbled.
But Buffalo replied with two quickfire touchdowns from Cole Beasley and Gabe Davis, and after getting back to within three during the final quarter, Miami were unable to get within scoring range on their final possession.
The Bills will now face an emotional game against the Bengals, in a rematch of the regular season game that was cancelled when Hamlin suffered his cardiac arrest.
The first round of the NFL play-offs concludes with Tom Brady's Tampa Bay Buccaneers hosting the Dallas Cowboys (01:15 GMT, Tuesday).
Divisional Round fixtures
(away team first)
Saturday 21 January
Jacksonville Jaguars v Kansas City Chiefs (21:30)

New York Giants v Philadelphia Eagles (01:15 Sun)
Sunday 22 January
Cincinnati Bengals v Buffalo Bills (20:00)

Dallas Cowboys/Tampa Bay Buccaneers v San Francisco 49ers (23:30)
Source link