Sports
NFL play-offs: Brock Purdy leads San Francisco 49ers to wildcard win over Seattle Seahawks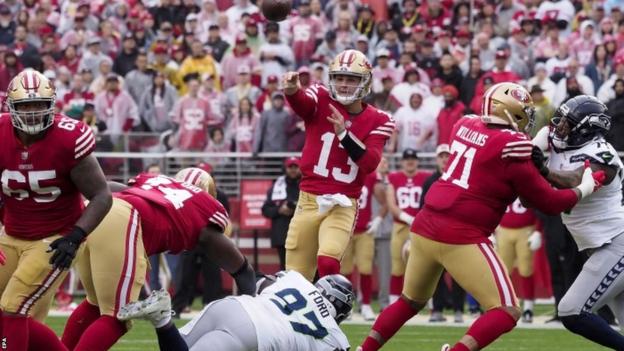 Dates:
Saturday, 14 – Monday, 16 February
Live text coverage:
On BBC Sport website and app on Saturday (21:00-04:00 GMT), Sunday (17:30-04:00) and Tuesday (00:45-04:30)
Radio coverage:
New York Giants v Minnesota Vikings
on BBC Radio 5 Sports Extra and BBC Sounds app on Sunday (21:00-01:30).
Brock Purdy continued his remarkable NFL start by leading the San Francisco 49ers to a 41-23 win in the opening game of this season's play-offs.
The rookie was this season's 'Mr Irrelevant', the last man selected in the NFL draft, but injuries saw him become the 49ers' starting quarterback, winning on his first five starts.
And although the Seattle Seahawks led 17-16 at half-time, Purdy kept his run going, passing for three touchdowns and rushing for another as hosts San Francisco claimed an 11th straight win.
Purdy, 23, became just the seventh rookie quarterback to win their first NFL play-off game and the first since Russell Wilson with Seattle in 2012.
No rookie quarterback has ever reached the Super Bowl but Purdy and the 49ers are now just two wins from the big game in Arizona on 12 February.
"[I'm] just taking it one day at a time," he said. "We've got a goal, to win the whole thing, but it's tournament play and anything can happen.
"I've got such a great team, it's not a one-man show and I'm very blessed to take them from here."
Since beating Tom Brady's Tampa Bay Buccaneers on his first start in week 14 of the regular season, Purdy has statistically been the best quarterback in the NFL.
That helped the 49ers secure the second seed in the NFC, so they were firm favourites against the seventh seed Seattle in the first week of the play-offs.
As rain poured in San Francisco, the 49ers charged into a 10-0 lead, with Purdy finding Christian McCaffrey setting up the opportunity for McCaffrey to then take a short pass from Purdy and run into the end zone for a three-yard touchdown.
Seattle replied with rookie running back Kenneth Walker getting in untouched from a yard before Robbie Gould's second field goal stretched the 49ers' lead to 13-7.
And the clouds cleared before Geno Smith found DK Metcalf with a deep shot to the sideline for a 50-yard touchdown.
Gould and Jason Myers exchanged field goals as the Seahawks edged in front before the half, but the 49ers were dominant after starting the second half with a 13-play drive lasting almost eight minutes, with Purdy punching it into the end zone from a yard out.
On Seattle's next possession, 49ers defensive end Nick Bosa pounced on the loose ball after a strip-sack on Smith and the hosts made their divisional rivals pay, with Purdy finding Elijah Mitchell for a seven-yard touchdown at the start of the fourth quarter.
Purdy then found Deebo Samuel in space and he ran in a 74-yard score, and Gould kicked his fourth field goal before Metcalf claimed a late consolation touchdown.
Source link