Top Stories
NFL London: Atlanta Falcons hold on for 27-20 win over New York Jets
The Atlanta Falcons held on for a 27-20 victory over the New York Jets as the NFL made a jubilant return to Tottenham Hotspur Stadium.
The Falcons were in control at half-time, with touchdowns from Kyle Pitts and Hayden Hurst helping them into a 20-3 lead.
Ty Johnson got into the end zone at the start of the second half to give the Jets hope, and they got within three points late on as they followed Michael Carter's touchdown with a two-point conversion.
The majority of a boisterous crowd of 60,589, relishing the NFL's return to London after the pandemic forced last season's international series to be cancelled, hoped for a field goal to take the game into overtime.
But Mike Davis ran in Atlanta's third touchdown of the day to ensure the Falcons, who have had a nasty knack of throwing away big leads, did not add another to the collection, improving to 2-3 for the season.
It also ensured rookie Pitts could celebrate a milestone day in his fledgling career. With the Falcons missing their top two receivers, Pitts and Cordarrelle Patterson had to shoulder the offensive burden.
And Pitts, who became the highest drafted tight end in NFL history when Atlanta made him the fourth overall pick, stepped up to claim his first NFL touchdown.
The 21-year-old was named the game's star man after finishing with nine catches for a game-high 119 receiving yards, while Jets quarterback Zach Wilson, the number two draft pick, failed to shine as his side slipped to 1-4.
"Kyle won his one-on-one match-ups and made some big-time plays for us," said Atlanta coach Arthur Smith. "Everybody wants the hot take after week one but you've just got to see continued improvement. That's why Kyle's here. We like the player he's becoming."
Falcons' veteran quarterback Matt Ryan added: "I've told Kyle I'm proud of him. I think there's going to be a lot of those [performances] in the future for him. He could be a great player in this league.
"There's a lot of noise, both positive and negative, that can distract you for that but he's done well as a young guy to focus and I expect him to continue that."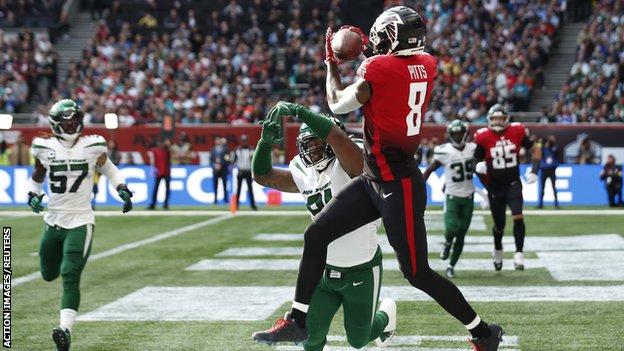 Pitts already showing worth to Falcons
Both sides are rebuilding under first-year head coaches and Pitts, expected to be an early pick heading into the draft, was an early gift to Atlanta's new boss Smith and Ryan.
Having previously been the Tennessee Titans' offensive coordinator, Smith was expected to reboot the Falcons' offence and last week's loss to Washington, when they lost 34-30 despite leading 30-22 with four minutes left, whet the appetite of UK fans.
They were denied the chance to witness Calvin Ridley in the flesh as the 26-year-old, who supplanted the since-departed Julio Jones as Atlanta's top wide receiver last season, did not cross the Atlantic "due to a personal matter".
Fellow receiver Russell Gage was also out so the Falcons feared the worst when Patterson, who scored three receiving touchdowns last week, came out of the game's opening drive to be assessed for a possible concussion.
Atlanta settled for a field goal and Patterson made an instant impact when given the all clear to return for the Falcons' second possession. The running back made a 16-yard catch to set up a two-yard score for Pitts on the next play, rounding off a 92-yard drive.
Ryan made another big pass to Pitts on their next drive, with a penalty nudging them into the red zone, and three plays later Ryan picked out Hurst down the middle for a 17-yard score.
Atlanta came in having conceded the most points in the NFL and if anyone would lose from there, it would be the Falcons, who famously let a 28-3 lead slip against the New England Patriots to lose Super Bowl 51.
The Jets rallied to make it a three-point game with nearly seven minutes left to play but Ryan, nicknamed 'Matty Ice', kept his cool on the next possession to seal victory.
He kicked it off with a 39-yard pass to Pitts before Davis wrapped up the 80-yard drive. Ryan finished with 342 passing yards to pass Eli Manning for eighth on the all-time list, and also became just the seventh quarterback to reach 5,000 career pass completions.
"You don't get many opportunities to work with players like that," said Smith. "He's pretty darn special. He's the leader of this team and I can't say enough good things about him."
Wilson unable to work wonders again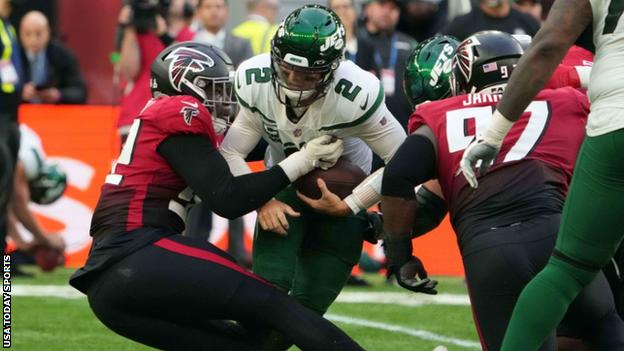 The New York Jets haven't reached the play-offs since 2010 and not had a winning season since 2015, but the long-suffering Jets fans dared to dream of a new dawn after last week's overtime win over Tennessee.
After struggling in losing his first three NFL games, Wilson led the Jets' fightback with two touchdown passes in the final quarter that demonstrated his exciting arm talent.
But the Jets went three-and-out on their first two drives before Wilson threw an interception on their third. They didn't gain a first down until midway through the second quarter, a drive which resulted in a field goal which got them on the board.
Although Wilson completed just five of 13 passes for 42 yards in the first half, Tevin Coleman gave them a shot in the arm with a 65-yard kick-off return at the start of the third quarter.
Johnson ran it in from a yard and despite the Jets making a fumble recovery late in the third quarter, Atlanta's defence forced them to go three-and-out again.
Wilson finally began to let fly in the fourth quarter. More importantly, he began to find his target.
He made two big plays before a pass interference penalty from another deep throw marched the Jets 41 yards upfield to Atlanta's two-yard line, from where Carter powered into the end zone on the next play.
But Wilson couldn't repeat last week's heroics and now has the most interceptions by a Jets rookie in their first five career starts (nine). The Jets came in having scored the fewest points in the NFL. They will have to endure a few more dark days yet.




Source link