Sports
NBA: LeBron James stars to help LA Lakers beat Portland Trail Blazers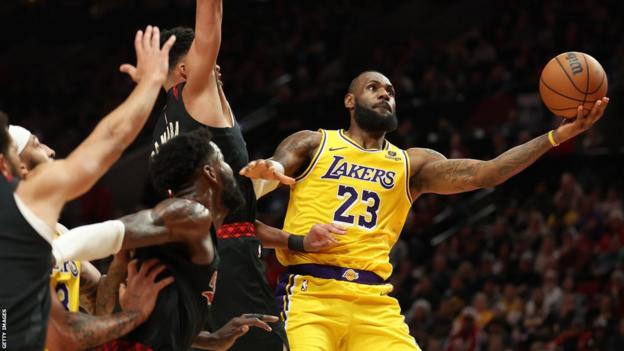 LeBron James equalled his season-high score of 35 points as the Los Angeles Lakers beat the Portland Trail Blazers 107-95 in the NBA in-season tournament.
James also registered nine assists for the Lakers, who lead their group with three wins from three games.
Victor Wembanyama's San Antonio Spurs lost 129-120 to the Sacramento Kings and, having lost all three group games so far, cannot make the knockout stage.
De'Aaron Fox scored a season-high 43 points for the Kings.
Each team play four games in their group, and games in the in-season tournament count towards a team's 82-game regular-season schedule.
Spurs' defeat was their seventh in a row overall – but 19-year-old French sensation Wembanyama, who scored 27 points against the Kings, believes they will recover.
"All of us, we know we're on a good path," he said.
"Of course it's hard to be patient sometimes, but it's an everyday fight. I know that the end of the season will not look like the beginning of the season."
Charlotte Hornets' Miles Bridges played his first NBA game since April 2022 as they were defeated 130-99 by the Milwaukee Bucks.
Bridges missed the whole of the 2022-23 season, having not signed an NBA contract after being arrested and charged over a domestic violence incident, to which he subsequently entered a 'no contest' plea – where a defendant does not admit guilt, but accepts punishment as if they had.
The NBA suspended him for 30 games without pay as a result of the incident, but it was deemed that he had served 20 games of the ban by sitting out last season. That left him with a 10-game ban to serve at the start of this season.
Bridges came off the bench to score 17 points in 33 minutes for the Hornets in defeat.
Elsewhere, Kevin Durant scored 38 points, including a three-pointer with 18.8 seconds left, to help the Phoenix Suns beat the Utah Jazz 131-128.
The Boston Celtics were 108-105 winners against the Toronto Raptors, while Orlando Magic beat the Chicago Bulls 103-97.
Joel Embiid registered 32 points, eight assists and seven rebounds to help Philadelphia 76ers to a 126-116 win against the Atlanta Hawks.
The new in-season tournament involves a group stage in which 30 teams have been randomly split into six groups of five.
Teams in each group will play each other once before a knockout stage of eight sides.
The quarter-finals will be made up of the six group winners and two teams from each conference who have the best group records in second place.
Source link