US & Canada
Nashville woman finds hate speech etched on car hood | Davidson County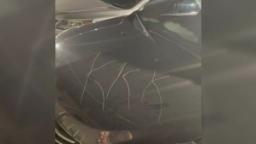 NASHVILLE, TN (WSMV) – A Nashville woman went to her car outside at her apartment complex and found the letters "KKK" etched into the hood of her car.
Meagan Barr said she noticed the letters and other scratches on her vehicle in the parking lot when she was leaving around 9 p.m. Sunday.
"I came out to my vehicle. I was returning a Redbox movie with my daughter and I came out and noticed the words. The letters KKK was inscribed on the hood of my car with some other scratches around the vehicle as well," said Barr.
Barr is upset because this was a fairly new vehicle and her personal property was damaged. She filed a police report. Metro Police confirmed that officers did take a vandalism report from her apartment complex on Trinity Lane.
"Honestly, I felt really scared. I felt as if I was targeted. I really wasn't sure. I was just furious," said Barr.
"I don't know if this was a vicious type of being targeted or if it was just some kids being ugly. I don't know, but it's not fair and it's not right."
She said her car wasn't the only one vandalized with the same verbiage.
"There was a car parked across from me that had 'KKK' on its hoods as well as the word 'bitch' carved on her door as well, and she was in the middle of calling the police," said Barr.
News4 observed surveillance cameras in the area where Barr said the vandalism occurred. She reported what happened to management and they're reviewing the video.
"This is not OK. This is not OK. This is a hate crime. There's so many people in the world struggling and nobody needs this," said Barr. "This is my personal belongings that were destroyed for no reason."
WSMV.com is now with you on the go! Get the latest news updates and video, 4WARN weather forecast, weather radar, special investigative reports, sports headlines and much more from News4 Nashville.
>> Click/tap here to download our free mobile app. <<
Copyright 2021 WSMV (Meredith Corporation). All rights reserved.