Top Stories
NAIA power outage: Philippines to shut airspace on May 17 in bid to tackle recent outages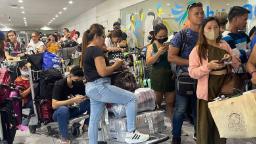 Editor's Note: Sign up for Unlocking the World, CNN Travel's weekly newsletter. Get news about destinations opening, inspiration for future adventures, plus the latest in aviation, food and drink, where to stay and other travel developments.

Hong Kong
CNN
 — 

"It's more fun in the Philippines" is the tourism tagline that draws travelers from around the globe to explore the country's pristine beaches and lush mountains.
But getting there is not always a smooth journey, as anyone unfortunate enough to be at Manila's airport during two crippling power outages this year discovered.
Those outages, on Labor Day and New Year's Day, caused widespread chaos with hundreds of flight cancellations affecting tens of thousands of passengers.
In a bid to solve that issue, the Philippines will close the whole country's airspace for 6 hours on May 17 to replace malfunctioning electrical equipment.
"It's the entire Philippine airspace that will be shut down," Bryan Co, senior assistant general manager at the Manila International Airport Authority, said in a press briefing on Tuesday.
The work will replace the uninterruptible power supply for the air traffic management center and the airspace closure will take place between 12 a.m. to 6 a.m. local time, usually a period of lower air traffic, Co added.
Co called on airlines to prepare for its airspace going dark by re-arranging their flight schedules and advising passengers on alternative arrangements early on.
Built 75 years ago, the Ninoy Aquino International Airport (MNL) in Manila – the country's main international gateway – has been struggling to cope with soaring passenger traffic since flights resumed after pandemic restrictions were lifted.
On May 1, the airport's Terminal 3 suffered an almost nine-hour outage that led to the cancellation of 48 Cebu Pacific's domestic flights on the Labor Day long weekend holiday.
Crowds of unhappy passengers lining up at Cebu Pacific's counter heckled staff over a lack of clarity on flight arrangements, according to videos from CNN affiliate CNN Philippines.
A full electrical analysis is being conducted in the aftermath of the incident and an audit may take up to 90 days to assess which updates need to be prioritized, the airport authority said.
Just days before the chaos, a newly-formed Manila International Airport Consortium (MIAC) had made proposals to the national government outlining a series of upgrades at the country's largest airport, aiming to double annual passenger capacity to 62.5 million by 2028, the group of six conglomerates said in a statement on Thursday.
The airport handled 48 million passengers in 2019, despite being designed to handle 31.5 million, it said, and the revamp is expected to cost $1.8 billion (100 billion Philippine pesos).
Upgrades had long been overdue especially after tens of thousands of travelers were stranded in the Southeast Asian hub after severe power interruptions impacted air traffic control at the country's largest airport on New Year's Day this year. Nearly 300 flights were either delayed, canceled or diverted to other regional airports and at least 56,000 passengers were affected.
The Philippine government launched an official investigation into what led to a severe outage on New Year's Day, which took place during the busy year end travel season that sees large numbers of foreign tourists as well as overseas citizens flying into the country from abroad to mark Christmas and New Year.