Top Stories
Monterey Park gunman sent 'manifesto' to law enforcement, sheriff says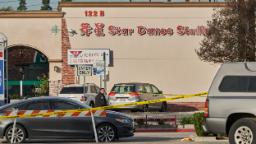 CNN
 — 

The gunman who opened fire during a Lunar New Year celebration near Los Angeles in January, killing 11 people and injuring others, sent writings to law enforcement, according to Los Angeles County Sheriff Robert Luna.
When asked whether authorities had discovered a motive in the Monterey Park attack, Luna said the gunman, Huu Can Tran, had sent a "manifesto" to law enforcement that was still being examined.
Tran, 72, opened fire the night of January 21 at a Lunar New Year celebration at a dance studio in Monterey Park – in a majority Asian community just east of Los Angeles. The assailant then went to a dance studio in nearby Alhambra where a man wrestled a gun from him, the sheriff has said. The suspect fled to Torrance, 30 miles away, and Tran was found dead in a white van the next day of a self-inflicted gunshot wound, authorities said.
Luna on Friday declined to provide any other information on the document described as a manifesto. CNN has reached out to the sheriff's department for more information.
The FBI is still analyzing the document and trying to piece together how the shooting unfolded and why, Luna said. CNN has reached out to the FBI for comment.
"I don't know if we'll ever have a motive, but we continue to try," Luna said.
Luna made the remarks during an event marking six months since the attack. US Representative Judy Chu, D-CA, also announced a legislative package in coordination with Sen. Kirsten Gillibrand, D-NY, to try to reduce gun violence through red flag laws.
In January, the sheriff said the gunman used a 9mm semi-automatic MAC-10 pistol with an extended large-capacity magazine. The disarmed weapon was traced to the suspect and provided authorities his name and description, Luna added.
The gunman was "very familiar" with the dance studio where the shooting took place, Los Angeles County District Attorney George Gascón told CNN after the shooting. "There is certainly the appearance that this was targeted," he added.
At least one person was shot in a vehicle outside the Star Ballroom Dance Studio, and police believe Tran shot that person first before he entered the dance studio and opened fire on the crowd of civilians, firing 42 shots in all, the sheriff said.
Tran's former wife told CNN she met him at the Star Ballroom, a popular community gathering place where he gave informal lessons.
In Janaury before the shooting, Tran visited a police station in Hemet, where he made various allegations before leaving, according to a statement from the Hemet Police Department.
"Tran visited the Hemet Police Department lobby on January 7 and 9, 2023, alleging past fraud, theft, and poisoning allegations involving his family in the Los Angeles area 10 to 20 years ago," Hemet police said in a statement. "Tran stated he would return to the station with documentation regarding his allegations but never returned."
Tran had a residence in Hemet, the statement said.
Correction: An earlier version of this story incorrectly identified the law enforcement agency which first received the writings.
Source link