Top Stories
Monaco Grand Prix: Charles Leclerc fastest in both practice sessions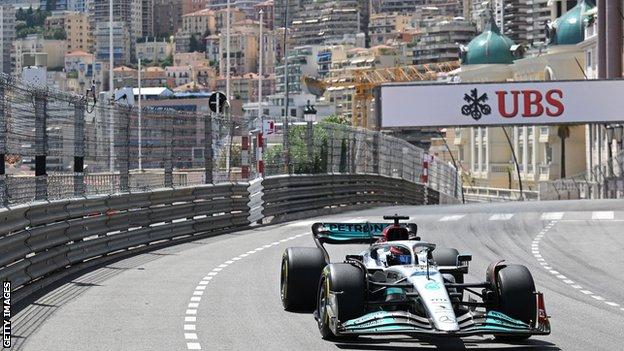 Ferrari's Charles Leclerc set an impressive pace to top Friday practice at the Monaco Grand Prix.
Leclerc was 0.044 seconds quicker than team-mate Carlos Sainz, with Red Bull's Sergio Perez and Max Verstappen third and fourth more than 0.3secs behind.
George Russell was sixth for Mercedes and Lewis Hamilton only 12th.
McLaren's Daniel Ricciardo's difficult season continued with a heavy crash at the Swimming Pool, while team-mate Lando Norris was fifth quickest.
Ricciardo lost control through the 150mph left-right at the entry to the Swimming Pool section, clipped the wall with his left rear tyre and smashed into the barrier at the entry to the second part.
Moments before Sebastian Vettel had just escaped having exactly the same accident, but managed to collect his Aston Martin without it hitting the wall.
It was exactly the blow Ricciardo did not need as he faces the intense focus always suffered by a driver who is in a high-profile position but being outperformed by his team-mate.
Ferrari's pace, with both cars at the front, and more than 0.3secs back to the Red Bulls underlines their status as pre-race favourites, on a weekend Leclerc needs to beat Verstappen having seen the Dutchman turn a 46-point deficit into a six-point lead in three races.
Mercedes, meanwhile, having left Spain last weekend optimistic that their car had turned a corner – a phrase Russell himself used in a news conference in Monaco on Friday morning – did not have such a good day.
Hamilton complained about the "bouncing" that had afflicted them until Spain returning for this race, and Russell was 0.7secs off the pace, Hamilton a further 0.9secs back.
Alpha Tauri's Pierre Gasly was seventh quickest ahead of Alpine's Fernando Alonso, Vettel and the second Alpha Tauri of Yuki Tsunoda.
Alfa Romeo had a bad day. Valtteri Bottas missed the entire first session with an engine problem and having a new power-unit fitted for the second ended up 15th fastest.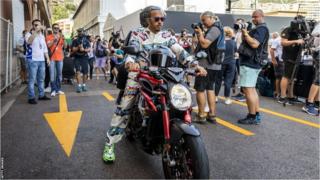 Monaco resident Lewis Hamilton arrived on his usual motorbike
Source link