Top Stories
McLean VA: Man with AK-47 in car en route to the CIA was arrested at Dolley Madison Preschool, police say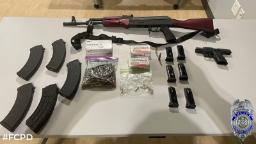 CNN
 — 

A man with an AK-47 in his vehicle who said he was headed to the CIA has been charged with felony possession of a firearm on school property, police in Virginia said.
Florida resident Eric Sandow, 32, was arrested Tuesday at Dolley Madison Preschool in McLean after police said he trespassed on school grounds around 11 a.m. The preschool is less than 1.5 miles from CIA headquarters.
"He requested access to the building facilities to use the restroom, which was denied by school staff," Dolley Madison Preschool said in a statement Wednesday. "At no point did he gain physical entrance to the school building."
Fairfax County police were then called to the scene. "While speaking with him, he made statements he had weapons inside his car located on school property," the police department said Wednesday in a statement.
"Officers searched the car and found two weapons, an AK-47 and a pistol, along with magazines and ammunition."
Sandow was arraigned Wednesday morning in Fairfax County General District Court, a court official said.
He was being held Wednesday without bond, police said. It was not immediately clear whether Sandow had legal representation.
"It does not appear he was acting in conjunction with anyone else," Fairfax County police said. "Sandow did not make any threats and the weapons never left the vehicle."
Sandow does not appear to have a lengthy criminal history, public records show. He was charged with misdemeanor domestic battery in 2014 and did not declare a political party with his voter registration.
Law enforcement lauded the alert person who summoned them Tuesday to the day care.
"We're grateful to the community member who did the right thing and called us," police said. "We'd like to remind our community to report suspicious activity as you never know what you may prevent by making that call."
Source link