Sports
Masters 2023: Ronnie O'Sullivan sweeps Luca Brecel aside to reach last eight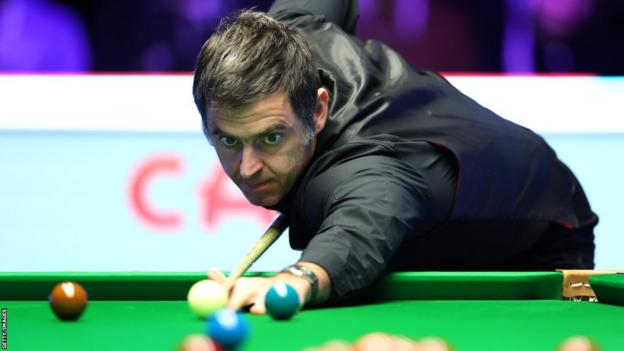 Venue:
Alexandra Palace, London
Dates:
8 January -15 January
Coverage:
Watch live on BBC TV and Red Button with uninterrupted coverage on BBC iPlayer, the BBC Sport website and the BBC Sport app
World number one Ronnie O'Sullivan swept Luca Brecel aside to reach the quarter-finals of the Masters with a 6-1 win at Alexandra Palace.
The 'Rocket' made sublime breaks of 53, 97, 134, 104 and ruthlessly capitalised on several errors by the Belgian on his way to victory.
O'Sullivan will face Mark Williams or David Gilbert in the last eight on Thursday.
John Higgins plays Jack Lisowski in Monday's other first-round match.
"It is not easy to play under pressure and I sensed that Luca felt a little uncomfortable and I tried to make the most of that and punish every mistake he made," O'Sullivan told BBC Sport.
"At 47 you have gained a lot of experience and you have to resort to a lot of that stuff. It is an amazing feeling with 2,000 people here expecting you to play well.
"I'm enjoying every moment. I might say I don't care but actually there is a very good competitor there. I'll never lose that so the players can keep expecting me to come back for more. I'm not going anywhere yet."
The seven-time world champion also feels that the current match-fixing investigation will not have any long-term repercussions for the standing of snooker but suggested the sport may need to look at ways to remove any temptations faced by lower-ranked players.
"I just think it will get sorted," O'Sullivan said. "Maybe World Snooker could help support them rather than being hard and maybe look at their own structure to maybe not put these players in that situation.
"Maybe help the format a little bit, maybe help in some way where it's less punishing for the lower-ranked players. It's very easy to sit here and criticise but sometimes you need to put yourself in somebody else's shoes before you criticise.
"I'm not one to be hard on them because I know it's not easy for the bottom players."
World Snooker and World Professional Billiards and Snooker Association responded in a statement, saying that it provides "support both in guaranteed income and the opportunity to earn significant sums of prize money".
It added: "Our structure includes a Players' Board, and providing welfare and support to our players is extremely important to us."
O'Sullivan marches on
Reigning world champion O'Sullivan, who already has a record seven Masters titles, gave an enthusiastic London crowd firmly in his corner plenty to cheer as he opened up by nearly making a century in the first frame.
He then efficiently tidied up as Brecel gifted him the second and third frames.
A glaring error going from brown to blue cost 27-year-old Brecel the second frame. Moments later, after a sensational shot with the rest nestled on the cushion to dispatch the green, a loose pot on the blue saw the white fly into the middle pocket and with it his hopes of taking the third frame.
Brecel responded with a brilliant century to reduce his arrears to 3-1 at the mid-session interval, but an error on his break-off shot was heavily punished with O'Sullivan making the highest break of the tournament so far with a 134.
O'Sullivan wrapped up his comprehensive win with another century, followed by a half century.
Source link