Sports
Luis Rubiales: Spanish judge opens investigation into former Spanish FA president over Jenni Hermoso kiss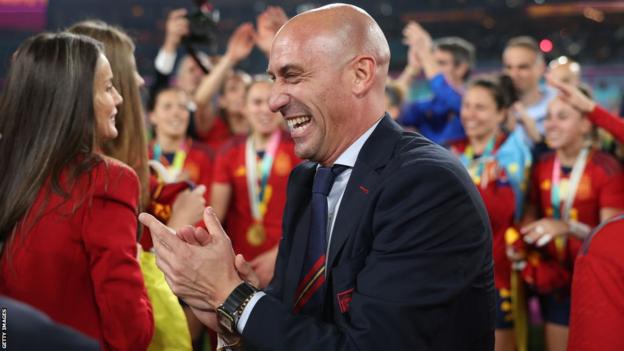 A Spanish high court judge has opened an investigation of former Spanish Football Federation president Luis Rubiales.
Hermoso, 33, said the kiss was not consensual, while Rubiales claimed it was "mutual" and "consensual".
Rubiales quit as Spanish FA president as a result of the controversy.
Last week, Prosecutor Marta Durantez Gil filed a complaint with Spain's high court against Rubiales for sexual assault and coercion.
On Monday, Judge Francisco de Jorge of the National Court accepted the complaint.
A magistrate will be assigned to lead an investigation, which will conclude either with a recommendation for the case to go to trial or be dismissed.
The charge of sexual assault under Spanish law can carry a punishment ranging from a fine to four years in prison.
Pachuca player Hermoso released a long statement on social media on 25 August saying the kiss was not "consensual".
"I feel the need to report this incident because I believe no person, in any work, sports or social setting should be a victim of these types of non-consensual behaviours. I felt vulnerable and a victim of impulsive-driven, sexist, out-of-place act, without any consent on my part," she continued.
"Quite simply, I was not respected."
De la Fuente on Rubiales resignation
Spain men's coach Luis de la Fuente asked for "forgiveness" after applauding the speech in which Rubiales said he would not resign for kissing Hermoso.
Asked about the resignation of Rubiales prior to his side's game against Cyprus on Tuesday, De la Fuente said: "In here we think about football and we live in a bubble to be isolated.
"I think we have to focus on football and on what we football professionals can control.
"I have total and absolute respect for the decision taken by Mr Rubiales. People make decisions when they think they have to make them."
De la Fuente was also questioned on whether he felt the need to send a message to Rubiales, who hired him as manager in December.
"I have been working at the RFEF for 11 years. I have lived a long time before Luis Rubiales arrived," added De la Fuente.
"I am a football coach. Nobody has gifted me anything, I have earned it. I am grateful to all the people who have helped me throughout my life. And, no, I have not spoken to him."
Source link