Top Stories
Live updates: Ian recovery efforts continue in Florida and the Carolinas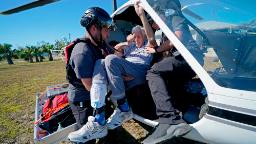 The Federal Emergency Management Agency (FEMA) alone cannot rebuild and provide assistance to all the communities impacted by Hurricane Ian, Craig Fugate, former FEMA administrator, told CNN's Amara Walker Sunday.   
When asked what recovery efforts might look like for Floridians who don't own flood insurance, Fugate said:  
"FEMA's money only goes to people who didn't have insurance that can't qualify for small business administration loans. And they provide assistance based on impacts," Fugate said. However, Fugate also said FEMA is "limited by Congress on how much they can provide to rebuild. And there won't be enough money to rebuild your home that's flooded."  
"We need to be very clear: FEMA was really designed to start the recovery," Fugate said. "Historically, FEMA cannot do everything that people are gonna need — it wasn't designed to do that by Congress, that's why we turn to HUD."
The US Department of Housing and Urban Development, otherwise known as HUD, can provide grants to communities impacted by hurricanes and other natural disasters to help people get back on their feet, Fugate said.   
Hurricane Ian previously made landfall in the state on Wednesday along the southwestern coast of Florida near Cayo Costa around 3:05 p.m. ET, Wednesday, with winds near 150 mph, making Ian a high-end Category 4 hurricane, CNN previously reported.  
"It's just not the coast of Florida that's been impacted. We've got impacts all the way through Orlando, up to the East Coast. Places like St. Augustine had devastating flooding," Fugate said.   
"We really now [are] starting to see the shift to getting roads open where we can get roads open. Get utility crews in to turn the power on… doing the assessments on what it's going to take to get some of these failed water systems and wastewater systems back up."  
Florida reopened at least 14 miles of I-75, according to a news release from the Division of Emergency Management and Florida Highway Patrol, the Florida Department of Transportation. Despite the reopening, FDOT officials warned residents that it might need to "enact future closures as necessary to ensure safety." 
"The more power we can get turned on to communities, the better they're gonna be able to manage their recoveries," Fugate added.   
Fugate served as the FEMA administrator under President Barack Obama from May 2009 to January 2017, according to a brief bio.  
CNN's Brandon Miller and Chris Boyette contributed to this report