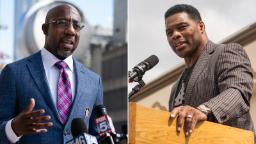 The expansion of the Senate Democratic majority brings with it tangible benefits, none more so than party's ability to hold outright majorities on committees, easing procedural and time hurdles to nominees in particular. 
But for President Biden in the weeks leading up to Sen. Raphael Warnock's victory, it also carried a more deeply ingrained prospect — one tied to his long-held prediction that Republicans will have what he's told aides would amount to an "epiphany" that would accelerate a shift away from former President Donald Trump. 
Biden is of the view, people familiar with his thinking say, that Trump's grip on the party has steadily slipped in more significant ways than it appears. It doesn't apply across the party — Trump's most ardent supporters aren't seen by Biden as willing to leave his side and White House officials are keenly aware of Trump's unprecedented ability to beat back predictions of his political demise that are too numerous to count at this point. 
But the broader view of a potential shift has been drawn in part by Biden's private conversations with Republican lawmakers and was bolstered by a midterm election that showed consistent weakness — and losses — among the highest profile Trump-endorsed candidates. 
Politically, the loss by yet another Trump backed candidate Republican Party officials long knew carried damaging baggage is an obvious capstone to that element. 
But a win by Warnock carries broader implications on Capitol Hill as well. Biden has spoken privately about his view that more Republicans may be willing to vote with Democrats on some issues and nominees if they aren't viewed as "the deciding vote," one of the people said. 
The fear of drawing a primary challenge — or the wrath of Trump — due to that vote has closed the door for some Republicans to work with Democratic counterparts, Biden has told advisors. 
"Nobody thinks it's particularly courageous, but the President views it as a reality," one of the advisors said of the dynamic created by a 50-50 Senate. 
It's not a view underpinned by hopes of major bipartisan agreements or sweeping legislative deals, the advisor made clear. But at least in Biden's view, it represents another step toward easing the hold, whether implicit or explicit, Trump has maintained since he left office.  
Source link