Top Stories
Live updates: Boris Johnson confidence vote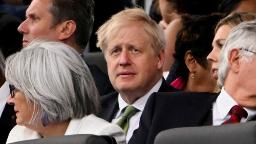 Dozens of Conservative MPs have called on Johnson to step down or expressed anger at his leadership in recent weeks, prompting Monday's vote.
One more lawmaker went on the record in his opposition to the Prime Minister on Monday, just moments before the vote was announced.
Jesse Norman said Johnson's response to Sue Gray's report into lockdown-breaking parties in his government was "grotesque."
But his letter, which he shared online, focused mostly on Johnson's other policies — demonstrating that the opposition towards Johnson's premiership runs far deeper than the Partygate scandal.
Norman said a breach of the Northern Ireland protocol, agreed with the EU in Brexit talks, would be "economically very damaging" and "foolhardy." 
He added that the government's new policy of sending some asylum seekers to Rwanda is "ugly, likely to be counterproductive and of doubtful legality." And he panned a separate plan to privatize Britain's Channel 4 television network.
"Under you the Government seems to lack a sense of mission," Norman wrote in a damning statement.
"For you to polling this charade by remaining in office not only insults the electorate … it makes a decisive change of government at the next election much more likely."
His conclusion mirrors that of many MPs, who have lost faith in Johnson to win the next general election. The Conservatives have been trailing the Labour Party in opinion polls for several months.
Source link