Top Stories
Live updates: Atlanta Midtown shooting news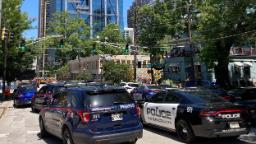 Atlanta Mayor Andre Dickens applauded local agencies and officials for their collaboration in apprehending the suspected gunman in Wednesday's mass shooting incident.
"We can go home and rest easy that the individual that caused harm in our community is under arrest thanks to this great partnership," he told reporters at a Wednesday night news conference.
The arrest of Deion Patterson comes following a chaotic multi-hour manhunt in Atlanta. Patterson will now be charged and stand trial for his alleged crimes, Dickens said.
Here's how we got here:
The shooting. Officers initially were called to the Northside Hospital Medical in Midtown Atlanta at 12:08 p.m. ET Wednesday, according to the Atlanta Police Department. The suspected shooter, accompanied by his mother, was at the facility for an appointment seeking new treatment after being dissatisfied with the care he was receiving from the Department of Veterans Affairs, according to the suspect's mother, a high-level source with the Atlanta Police Department told CNN. At some point, the man became agitated and used a handgun to open fire.
The manhunt. The gunman left the facility on foot and went to a nearby gas station, where he got into a pickup truck that was left running and unattended, police said. The license plate of the vehicle was detected by a plate reader, according to authorities. Throughout the day, officials were being called to various locations for what police described as apparently legitimate sightings of the suspect. An undercover officer saw and confronted the gunman, then backup was called, police said. The suspect was arrested in Cobb County near the Truist Park baseball stadium at roughly 7:45 p.m. ET without incident, according to police
The victims. One person was killed and four others were injured, three critically, in the shooting. All the victims were women, police said. Three of them who were taken to Grady Memorial Hospital are in critical condition, while another patient is now stable, the hospital said. One of the patients was admitted with a gunshot wound to the abdomen and another with a wound to the arm, according to a hospital representative. The third critical patient was shot in the face, the hospital said.
The suspect. Police have identified the suspect as Deion Patterson, 24. He was a former Coast Guardsman and was discharged from active duty in January of this year. Patterson had minimal contact with the police department before the shooting.
Source link