Top Stories
Jude Bellingham: England and Real Madrid midfielder wins Golden Boy award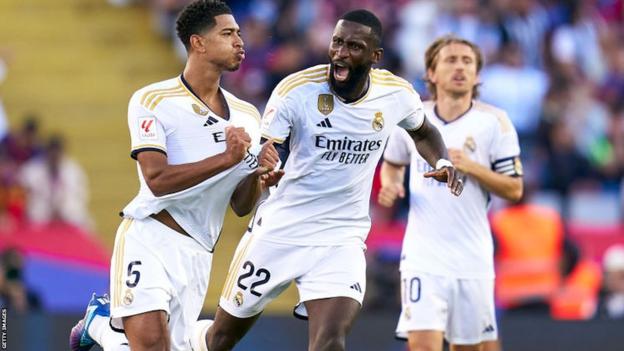 England and Real Madrid midfielder Jude Bellingham has won the 2023 Golden Boy award – given to the best under-21 player in Europe's top flights.
The 20-year-old moved from Borussia Dortmund to Real in the summer and has scored 13 goals in 14 appearances.
This award comes after Bellingham was recognised as the best under-21 player in world football at the Ballon d'Or ceremony in October.
"Now I have this prestigious award I want to keep going," he said.
"I want to keep pushing the limits of my potential and hopefully many more trophies to come."
Bellingham added: "I'd like to thank everyone who has been part of my journey so far at Birmingham, Dortmund and now Madrid. It wouldn't be possible without them.
"Lastly and most importantly my family who give me the support and motivation and love every day to keep striving."
Bellingham is the first English player to win the award since Raheem Sterling in 2014, when the Chelsea winger was at Liverpool.
Other notable winners include Wayne Rooney, Lionel Messi, Kylian Mbappe and Erling Haaland.




Source link