Top Stories
January 6 committee: Ex-Trump campaign manager, conservative election attorney to testify Monday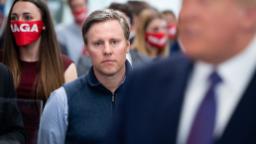 Committee aides said Sunday that the hearing would scrutinize how former
President Donald Trump
embraced false claims of fraud in the 2020 election and how he decided to declare victory in the hours after the election, even though he was told that the numbers didn't bear it out.
Aides said the hearing would show how Trump's team pursued legal challenges in court and lost those cases, and that Trump then chose to ignore the will of the courts and continued to try to overturn the election.
"We will reveal information about how the former President's political apparatus use these lies about fraud about a stolen election to drive fundraising, bringing hundreds of millions of dollars between Election Day 2020 and January 6," aides added.
The hearing will also seek to connect Trump's lies about the election to the violence at the US Capitol on January 6, aides said, including how rioters echoed the former President's baseless allegations that the election had been stolen.
Democratic Rep. Zoe Lofgren of California, a member of the select committee, will play a "key role" in the presentation, but the hearing will technically be led by Chairman Bennie Thompson, a Mississippi Democrat, according to panel aides.
In addition to live witness testimony, aides said the committee will continue to show more multimedia presentations and video recordings from closed-door depositions.
Ginsberg is considered a leading Republican expert on election fraud and played a critical role in the Florida recount case in 2000 when then-candidate George W. Bush defeated then-Vice President Al Gore.
Stepien, Trump's former campaign manager, is advising the campaign of Wyoming Republican Harriett Hageman, who has the former President's endorsement in her primary challenge to Rep. Liz Cheney. Cheney serves as the vice chair of the January 6 committee. Stepien's firm has received more than $190,000 from Hageman's campaign this election cycle for strategy and fundraising consulting and video production, according to federal election filings.
The hearing on Monday morning will focus on how Trump questioned the election process widely, knowing that his allies' assertions would not change the outcome, Cheney said last week.
The January 6 committee will strive to show how "Trump engaged in a massive effort to spread false and fraudulent information," even though "Trump and his advisers knew that he had, in fact, lost the election," Cheney said.
This story and headline have been updated for additional developments.
CNN's Kaitlan Collins contributed to this report.
Source link