Top Stories
James Comer and former Twitter employees strike deal on subpoenas in exchange for testimony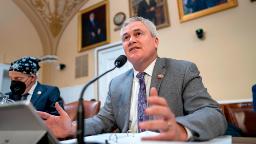 CNN
 — 

House Oversight Committee Chairman James Comer has subpoenaed three former Twitter employees who will testify before the panel in relation to their investigation into Twitter's decision to temporarily suppress a New York Post story regarding Hunter Biden's laptop, three sources familiar with the documents tell CNN.
Twitter's former Chief Legal Officer Vijaya Gadde, former Deputy General Counsel James Baker and former Head of Trust and Safety Yoel Roth requested they be subpoenaed in order to compel their testimony, the sources told CNN, given the legal complications of publicly sharing privileged information from Twitter before the committee.
The hearing comes after Twitter's CEO, Elon Musk, released some internal communications from Twitter staff about the decision to censor the New York Post story in the closing weeks of the 2020 presidential election campaign season.
Comer, who met privately with Musk last month when the billionaire visited the Capitol, told CNN last week that the hearing may "incorporate some private conversations with some high-level people at Twitter" who support the belief that the US government may have played a role in the suppression of the New York Post story.
When asked specifically if Musk has conveyed this sentiment to him, the Kentucky Republican told CNN: "I cannot answer that but that may come out in the hearing."
Comer's belief that the government may have been involved in the suppression of the story is rooted in the so-called "Twitter files" that Musk made publicly available. Comer added his panel so far has only had access to the files that have been released publicly.
"Americans deserve answers about this attack on the First Amendment and why Big Tech and the Swamp colluded to censor this information about the Biden family selling access for profit. Accountability is coming," Comer said in a statement regarding the hearing.
CNN has previously reported that allegations the FBI told Twitter to suppress the story are unsupported, and a half a dozen tech executives and senior staff, along with multiple federal officials familiar with the matter, all denied any such directive was given in interviews with CNN.
Republicans on the panel are especially eager to grill Baker, who previously served as general counsel at the FBI during the investigation into whether former President Donald Trump had colluded with Russia. Baker joined Twitter just five months before the 2020 election.
Gadde, Baker and Roth did not respond to CNN's requests for comment.
This story has been updated with additional developments.
Source link