Top Stories
'It's time to talk about black rugby players' hair'

Venue:
Cardiff Arms Park
Date:
Saturday, 15 April
Kick-off:
14:15 BST
Coverage:
Watch on BBC Two, iPlayer and the BBC Sport website and app; listen on BBC Radio 5 Sports Extra; live text commentary on the BBC Sport website and app.
In my first BBC Sport column, I want to talk about something that requires a lot of effort from black girls in rugby, but which we do not always discuss: hair.
I feel I have had to change my hair in order to fit in my sport.
If I were to wear my natural afro in a rugby match, by the time I finished, with it rubbing everywhere in tackles, it would be all over the place.
I choose to wear my hair in braids to protect it from getting damaged and dirty when I play.
It is easy to stereotype rugby girls because of the rough and aggressive sport we chose, but I am a big believer in 'look good, feel good, play good'.
England's Women's Six Nations matches are on free-to-air television – there are a lot of eyes on us.
With that in mind, I want a balance between having a hairstyle I feel comfortable in, one that is suitable for playing and one that I am happy with when I go out off the pitch too.
Hair is an interesting topic. A lot of people would not know all this and I would not expect them to because it is quite niche to the black community.
Unless you grew up with this hair or have learned about it, you would not know the deep-rooted connection a black girl has with her hair.
I think it would come as a shock to some of my friends if I had this conversation with them. That is why I want to start the conversation now.
Tackling misconceptions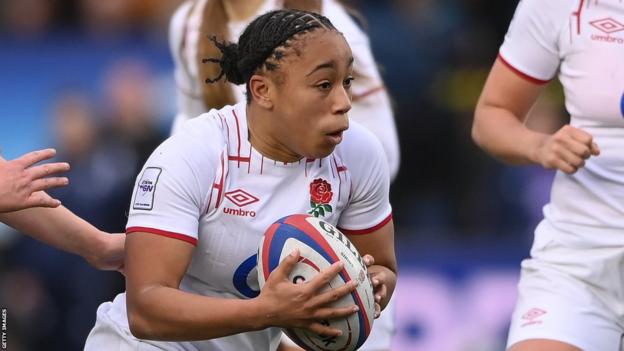 There can be a misconception, especially about braids, that they are just worn to look pretty.
Any hairstyle that keeps natural hair underneath actually grows your hair and protects it. These are called protective styles and there is so much heritage and tradition that comes with them.
When I first started playing rugby in South London, it was with people who looked and sounded like me and my hair did not feel like an issue.
We would all style it in similar ways so nothing was a shock.
Rugby is a predominantly white sport and as I rose through it and felt more like a minority, I felt added pressure about my hair.
There is a social culture in rugby that means it is common to go out after games. I felt pressure to look nice and if I had worn my natural hair for a game, it would take me two or three hours to feel presentable after.
At first I decided not to go out. But with braids, I can play rugby with the hair that I want and still look good and feel good after. I felt like I could fit in.
'Flippant and naive questions'
There are comments I have received that have made me feel like my hair is not acceptable in rugby.
If I was not a person of colour and my hair was naturally long, I do not think I would get these comments.
My personal preference is to have my hair long because that is how I feel most confident.
Naturally, people are curious but they can ask flippant and naive questions, asking why my hair is so long and why I need to have it like it is.
I might come in with new hair which might be down to my waist and the first comment would not be, 'your hair looks nice', it would be, 'why is it that long?'.
Something that people do not understand is that a small comment about a black girl's hair could be something that is ringing around her head for the next couple of days.
It would help if people could just take my hair as it comes and not feel the need to ask why it is long, short or sticking up.
People think if they have a question in their head they have to ask it but sometimes if they just took a second, they might realise they could answer it themselves or that they do not actually need to ask it.
You could just say something positive instead of taking my hair as a spectacle.
If we were to flip the situation on its head, every time I asked someone with straight hair a question about it, it would seem weird.
I do have one other idea which I hope would encourage more black girls to stick with rugby.
When I go to bed, I wrap my hair in a satin headscarf because it keeps it neat.
When I am in England camp, as I am at the moment before our Women's Six Nations match against Wales on Saturday, I put my headscarf on at night and that means I do not have to do anything to my hair in the morning.
For matches, I wear a scrum cap to protect my hair and keep it off my face. I would love to have a scrum cap with a satin layer inside to protect my hair even more.
At the moment, black players in women's rugby are a niche community but maybe having something like a scrum cap for afro hair could contribute to changing that.
Sadia Kabeya was speaking to BBC Sport's Becky Grey.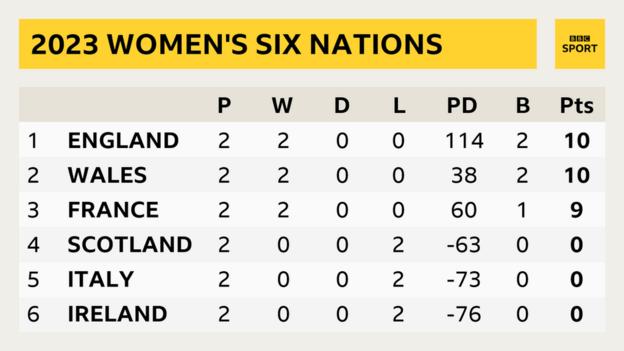 Source link