Top Stories
It's mid-afternoon in Kyiv. Here's what you need to know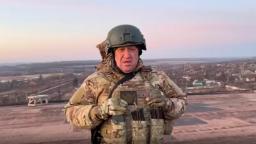 The head of the Russian private military company Wagner has issued a video message from inside the city of Bakhmut, standing in front of a tank monument situated in the eastern part of the city.
Yevgeny Prigozhin dismissed Ukrainian claims that Wagner was taking heavy losses in the fight for Bakhmut and was close to finished as a fighting force.
"We will conquer this frontier with dignity," he said.
"The [Russian] Defense Minister has told you that after capturing Bakhmut, the operational space will open. And the world has not yet faced the Russian army, which is well prepared, with those units that have not yet entered into battle, with all possible modern weapons, intelligence, ideally prepared," he added.
"They are waiting for their time. Right after the opening of the operational space by PMC Wagner after Bakhmut. Then the whole world will shudder."
Prigozhin also addressed Ukrainian President Volodymyr Zelensky with an appeal. 
"The only request — take out the elderly, children. And (send) here normal combat-ready units." 
"We need to deal with you here now," he said.
Some background: Prigozhin shared an audio clip on Telegram earlier Wednesday, claiming that the eastern part of the Ukrainian city of Bakhmut is now under Wagner's control. CNN cannot independently confirm Prigozhin's claim. While the Ukrainian military did not address his claims, it said that Russian attacks in the Bakhmut area continue, but described them as unsuccessful and incurring heavy losses.
Source link